business
Brexit Bulletin: The Countdown Edition
By
With a year to Brexit day, the divorce has yet to be defined

May goes on a national tour to hear 'what Brexit means'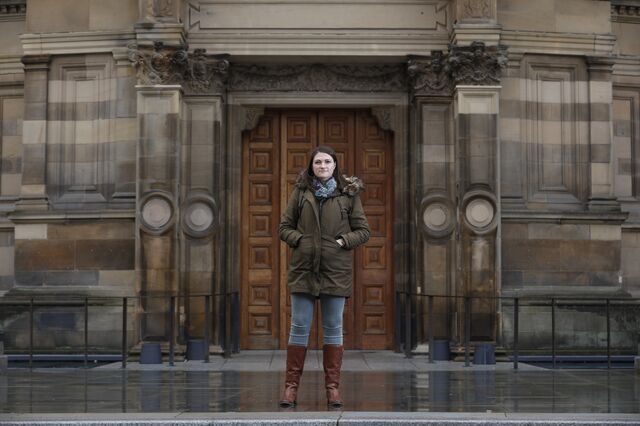 Sign up to receive the Brexit Bulletin in your inbox, and follow @Brexit on Twitter.
With just a year to go until the U.K. leaves the European Union, the hardest questions about what the breakup means still haven't been answered. Theresa May's task for the next few months is to do that, and she'll need to battle Parliament, her party and Brussels on the way.
There's a good chance the U.K. reaches Brexit day with no clear vision of what the future relationship with its biggest trading partner might be. May will send the withdrawal treaty through Parliament, but it will deal only with the divorce – the past. The agreement she secures from Brussels on what comes next, the future relationship, can be vaguely worded, with more diplomatic flourishes than hard trade detail. And it's not binding. Brexit will have been delivered but little else resolved.

But it's also possible that the next few months force May into a closer relationship with the bloc than she has planned. Lawmakers are plotting how to keep the U.K. in the customs union, the arrangement that keeps cross-border trade free within the bloc's members. Business is lobbying hard too. 
In May's office, the view is that the tight referendum result – 52 percent voted to leave the EU, against 48 percent voting to stay – can't be interpreted as a mandate for an extreme Brexit. In her speech at the start of the month, the prime minister said that it was important to have a deal the whole country could unite behind. 
A proposal to stay in the customs union would help solve the problem of the Irish border, and would give the EU a negotiating position it can engage with (remember, the U.K. has yet to show the EU, at least in public, a proposal it doesn't reject as unacceptable cherry-picking.) And May can keep her most important red line: that freedom of movement will end with Brexit. As Sam Lowe, a trade expert at the Centre for European Reform puts it: "It only requires one red line to move."
We've taken a look at three scenarios open to May as she embarks on her year to Brexit day. Check them out here. 
And if you missed our trip around Britain yesterday, it's recommended reading: Tour of Brexit Britain Finds an Angry, Disunited Nation in Limbo.
We've also refreshed our special Brexit page, offering full coverage and our best explainers, features and analysis – as well as a handy countdown.
Brexit Latest
Banking Brexodus | It's really happening. Financial-services companies will have moved more than 1,000 people to Frankfurt by the end of April in preparation for Britain's departure from the European Union, according to an industry lobby group.

Border Patrol | The U.K. plans to hire 1,000 new customs and immigration staff to ensure the security of the country's border after Brexit. The workers will be funded from an additional £395 million ($560 million) pledged to the Home Office, and come on top of the 300 new workers recruited in the fiscal year that's about to end, the Home Office's top civil servant said on Wednesday.
Nothing to Talk About | A meeting of European affairs ministers from EU states to discuss the state of play in Brexit talks has been canceled, as there's nothing for ministers to discuss, Nikos Chrysoloras reports from Brussels. Negotiations continue at a technical level with nothing needing ministerial involvement at this stage, according to an EU official.
May's Tour | May is touring the U.K. on Thursday to gauge the mood of the country a year before Brexit. She'll take in a textile factory in western Scotland and a toddler group in Newcastle before meeting farmers near Belfast and business people in Wales. Then, she'll have tea in West London with a group of Polish citizens. 
No Mention of Brexit | Downing Street issued a read-out late Wednesday of a phone call between May and German Chancellor Angela Merkel. Russian aggression, spy poisoning, steel tariffs and the Iran nuclear deal were on the agenda. On the eve of the anniversary, Brexit didn't even get a mention.
Transition Green Light | U.K. financial regulators told banks and insurers that they can rely on the transition period, even though it's not legally binding until the withdrawal deal is signed early next year. This contrasts with the more cautious line taken by the EU, where regulators stress that firms need to prepare for the worst.
Mixed Messages | Emily Thornberry, Labour's foreign policy spokeswoman, prompted anger and a fair amount of confusion on Wednesday when she suggested that the government would come back from Brussels with a Brexit deal so vague – "a blah, blah, blah divorce" – that it would pass Labour's tests and be approved in Parliament. Keir Starmer, the party's Brexit spokesman, was quick to knock her down in an email to MPs, the Guardian reports. He insists that if Labour's tests are not met, it won't support a withdrawal deal. 
On the Markets | A year from Brexit, some of Europe's top funds are struggling to find a reason to buy the pound, write Anooja Debnath and Charlotte Ryan. "The transition deal has not removed political uncertainty from the U.K.," said Didier Borowski, head of macroeconomic research at Amundi, Europe's largest money manager. "We are still in the middle of nowhere and are very much unclear concerning the final deal that will be negotiated. So we are still very, very cautious concerning our exposure to the currency and British equity markets."


And Finally...
For U.K.-based international broadcasters worried about the consequences of Brexit, the European Union has some unhelpful advice: check out a treaty signed in the 1980s.
If broadcasting isn't covered by a the future free-trade deal, the fallback is the 1989 European Convention on Transfrontier Television, the European Commission said in a notice on March 19.
Signed in the year computer scientist Tim Berners-Lee wrote his proposal for what would become the World Wide Web, that convention is a bit thin. It excludes seven member states, lacks a mechanism for dispute settlement and, of course, doesn't cover online streaming. It's definitely not enough to stop broadcasters thinking about changing countries as they prepare for the worst, reports Joe Mayes.
"It's a major problem," says Alice Enders, head of research at Enders Analysis, with some understatement. 
For more on Brexit follow Bloomberg on Twitter, Facebook and Instagram
Before it's here, the Brexit Bulletin is on the Bloomberg Terminal.
Before it's here, it's on the Bloomberg Terminal.
LEARN MORE