markets
Barclays's $2 Billion Mortgage Settlement Is Lighter Than Most
By
Avoiding earlier deal might have paid off for the U.K. bank

Many settled with a more aggressive previous administration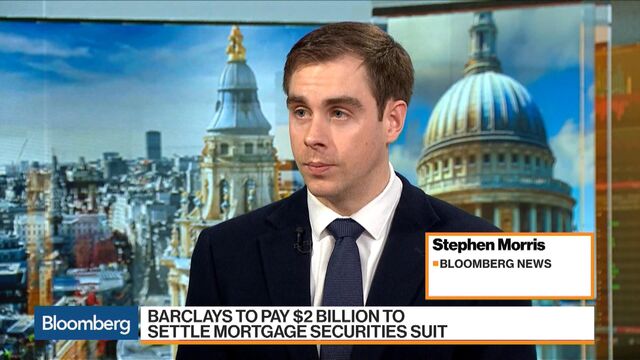 Barclays Plc said almost two years ago it would fight the U.S. Justice Department's mortgage-related allegations instead of settling, breaking ranks with many of its peers. The gamble might have paid off.
Under the Trump administration's less aggressive enforcement strategy, the U.K. bank kept its settlement at $2 billion, the level a person familiar with the matter said in 2016 was the bank's hoped-for upper limit. Some of its peers shelled out many times that amount under deals reached with the Obama administration.
Two other European banks, Royal Bank of Scotland Group Plc and UBS Group AG, still haven't reached settlements with the Justice Department over pre-crisis sales of mortgage securities, according to data compiled by Keefe, Bruyette & Woods. Bank of America Corp., which has paid the biggest fines so far, has another case pending with the department, KBW data show.
Before it's here, it's on the Bloomberg Terminal.
LEARN MORE