markets
Trade-War Angst Cools for Now, Lifting Futures: Taking Stock
By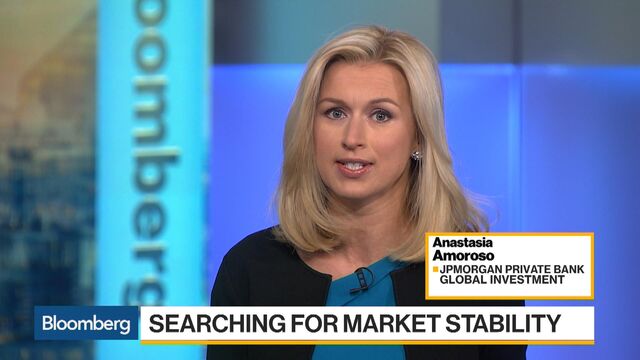 S&P 500 futures are bouncing hard after a brutal week in which we closed at some major levels, just several points above of the 200-day moving average of 2,585 and the Feb. 8 low of 2,581.
Most are pointing to reports that indicate a deal with China over trade may be in the works -- Mnuchin "cautiously hopeful" on reaching a pact while WSJ leading with "U.S., China Quietly Seek Trade Solutions" -- which would make sense given the market's reaction last week to Trump's plan to impose ~$50 billion of tariffs against China. A quick look at the trade war sentiment stocks show BA and CAT both up ~2% in pre-market trading.
Other notable developments include the Newsmax CEO relaying Trump's words that "one or two major changes" to the Cabinet are going to hit "very soon, and that's going to be it," the sans-bombshell Stormy Daniels interview (to be continued?), and a smattering of M&A with USG/Knauf and FINL/JD Sports.
And the Facebook story continues to blow up even wider. There were reports over the weekend that the company had logged call and text history without people's permission (Facebook responded to these claims), a WSJ story that said the company is scrambling to prevent more advertisers from dropping out, and more calls for Zuckerberg to testify.
This follows Elon Musk deleting the Facebook pages of both Tesla and SpaceX on Friday; will this be the peak of the #DeleteFacebook movement, or just the tip of the iceberg? Well, at least one publication had something nice to say about the stock: Barron's put Facebook on its cover, saying that there is little evidence so far of a widespread user revolt and arguing that the the stock could climb more than 25% to $200 per share.
Jockeying for Position
The SPX has closed lower 8 of the last 10 sessions, and last week saw a dramatic pullback in some of the market's biggest winners over the past year, namely tech and financials (both dropped over 7% on the week). There are a lot of rotation trades jockeying for position in this market, and they appear to change on a daily basis given how susceptible stocks are right now to headline risks.
For example, the weakness in large-cap tech to start off the week after the Facebook data breach, the perplexing selloff late Wednesday after a seemingly dovish FOMC statement, the China trade war flare-up on Thursday that caused hand-over-fist selling in Boeing and Caterpillar, and the Bolton trade coupled with the spending bill signing on Friday that gave a bid to all defense names.
The heightened geopolitical tension and overall uncertainty allowed the energy group and the more defensive sctors, like utilities, REITs and consumer staples, to outperform towards the back half of the week. But this is all a very fluid situation that likely won't play out until this market figures out exactly which direction it is going to go for the longer-term - some see the next few days, or weeks, as crucial in determining where the market ultimately goes.
Here's What Strategists Are Saying
JPMorgan: Nikolaos Panigirtzoglou says that a "stubbornly cautious stance" by institutional investors is emerging as an important headwind for stock markets in the near term; breaching the Feb. lows would raise the risk of capitulation and of a more serious correction beyond the 10% decline seen between Jan. 26 and Feb. 8. John Normand recommends buying the dip in stocks as concerns over inflation, bond yields and central banks is overdone.
Morgan Stanley: Michael Wilson says "we are buyers at current levels" after low end of 2,650-2,800 range broke on Friday
Goldman: David Kostin says despite market anxiety about trade conflict, S&P 500 profitability "remains very healthy"; valuation is stretched relative to history, though is less expensive when considering expectations for ROE in 2018
Tick-by Tick Guide to Today's Actionable Events
Today -- Scotia Howard Weil Energy Conference kicks off; companies presenting today include BP, CVX, DVN, MRO, NOV, RIG, WFT
8:30am -- Chicago Fed
8:30am -- PAYX earnings
10:30am -- Dallas Fed
12:30pm -- Fed's Dudley speaks on the future of financial regulation
1:00pm -- Wilbur Ross scheduled to speak at U.S. Chamber of Commerce event
4:15pm -- RHT earnings
4:30pm -- Fed's Mester speaks on monetary policy at Princeton University
7:10pm -- Fed's Quarles speaks at Hope Global Forums
Tonight -- Eletrobras earnings
Tonight -- GreenTree Hospitality (GHG) IPO expected to price
Before it's here, it's on the Bloomberg Terminal.
LEARN MORE