politics
Finland Ready to Arrest Catalan Separatist Leader
By and
Leader to be available to Belgium officials, LaSexta reports

Spain gave Finnish authorities with documents for an arrest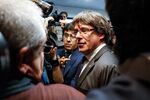 The former president of Catalonia, Carles Puigdemont, left Finland before authorities there could act on a request from Spain to arrest him, his lawyer said, in connection with the independence drive last year.
Jaume Alonso-Cuevillas, the lawyer, confirmed his departure by text message Saturday. Puigdemont will remain at the disposal of the authorities in Belgium, where he now lives, Spanish broadcaster LaSexta reported, citing Alonso-Cuevillas.
Finland received an extradition request on Friday from Spain, which also delivered additional documents to support an arrest, Kai Mykkanen, the country's interior minister, said by phone on Saturday. An arrest warrant has been issued for Puigdemont, whose whereabouts are unknown.
A Spanish Supreme Court judge on Friday filed preliminary charges against 13 Catalan separatist leaders, including Puigdemont, for their part in the push to break away from Spain last year. Pablo Llarena said the separatist leadership should be charged with rebellion for holding an illegal referendum and declaring independence from the state.
Puigdemont fled to Brussels immediately after that declaration in October and has remained in self-imposed exile ever since.
— With assistance by Charles Penty
Before it's here, it's on the Bloomberg Terminal.
LEARN MORE