markets
Some Chinese Stocks Are Doing Fine in This U.S. Trade Rift
By and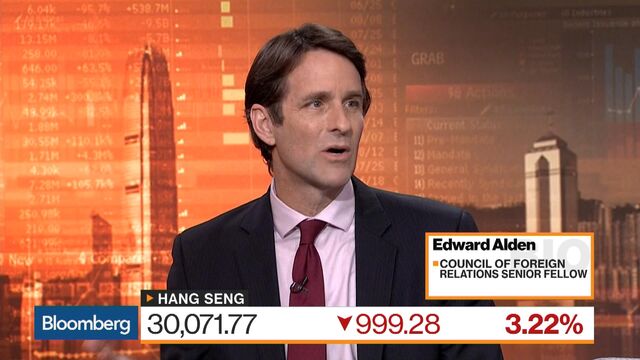 Not all Chinese stocks got hammered Friday as a trade war with the U.S. escalated.
Investors piled into agricultural and gold stocks as other equities plunged following U.S. President Donald Trump's decision to slap tariffs on at least $50 billion of Chinese imports, and then China announcing levies of its own on products including U.S. nuts and wine. Also included in Beijing's 128-item hit list are steel products, pork, fresh and dried fruits, and ginseng.


The Shanghai Composite Index closed down 3.4 percent and the Hang Seng Index in Hong Kong slid 2.5 percent, with only two stocks gaining on the 50-member gauge.
Here are some of the companies that fared well Friday, and some that didn't.
WINNERS
Agricultural companies
Seed producers and pig breeders jumped on the mainland as Beijing announced reciprocal tariffs on U.S. imports. Investors are speculating that the levies will make U.S. products less price competitive, said Zhang Gang, an analyst at Central China Securities Holdings in Shanghai.
Of the top 10 biggest gainers on the Shanghai Composite Index, six were agricultural companies. Gansu Dunhuang Seed Co. rose the 10 percent daily limit, as did pig farm operator Hunan New Wellful Co. Harbin High-tech Group Co., a soybean processor, also jumped 10 percent and so did Zhongnongfa Seed Industry Group Co.
Gold miners
Investors flocked to safe havens like gold producers as sentiment turned risk-off, Zhang said. Gold producers topped the CSI 300 Index, led by Shandong Gold Mining Co. and Zhongjin Gold Corp., which climbed 5.9 percent and 5.4 percent, respectively.
Wine makers
Organic wine producer Wei Long Grape Wine Co. was among the gainers, advancing as much as 9.7 percent in Shanghai, while milk and wine producer V V Food & Beverage Co. added as much as 8.7 percent.
LOSERS
Electronic component makers
Apple supplier AAC Technologies Holdings Inc., which got 62 percent of its revenue from the U.S. in 2016, slumped 6.8 percent in Hong Kong, the most since Dec. 6. AAC led declines on the Hang Seng Index. China Sinostar Group Co., which sells a wide range of electronic products, fell 3.7 percent.

Home appliances

Machinery equipment, including electronic components and home appliances, accounts for 48 percent of Chinese exports to the U.S., according to China International Capital Corp. Suning.com Co. and Gree Electric Appliances Inc. fell 6.6 percent and 2 percent, respectively, on the mainland.
Furnishings, Shoes, Garments
Home furnishings producers listed in Hong Kong received 32 percent of their revenue from the U.S. on average in 2016, while shoemakers got 11 percent. Li & Fung Ltd., an exporter of goods from home furnishings to shoes, tumbled 10 percent. Shoemaker Baofeng Modern International Holdings Co. plunged 3.9 percent and garment producer Carry Wealth Holdings Ltd. lost 2.5 percent.
(
Adds chart and updates share prices.
)
Before it's here, it's on the Bloomberg Terminal.
LEARN MORE