Match CEO Downplays Intimidation Accusations in Bumble Brawl
By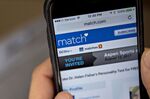 Match Group Inc. CEO Mandy Ginsberg shot down speculation that the company's lawsuit against Bumble is meant to strong-arm its way into an acquisition.
The intellectual property lawsuit isn't about deals but about defending the technology and brand that Tinder is built on, Ginsberg said in a phone interview.
"We're in a unique situation where we don't have to buy anything right now," Ginsberg said. "Our business is doing really well."
Shares are up 1.8 percent to $44.99 after hitting a record earlier this month.
The dispelling of rumors comes after Bumble took out an ad in The New York Times Tuesday accusing Match of intimidation and incinerating chances of a future hook-up between the two businesses.
"We'll never be yours. No matter the price tag, we'll never compromise our values," the ad read in response to the lawsuit filed against Bumble last Friday. In November, TechCrunch said Match had made an offer to acquire Bumble for $450 million, citing people familiar.
Ginsberg emphasized the move to protect its patents is nothing the company hasn't done before. Match Group also filed a similar suit against Tantan, a Chinese dating app, last week which may be indication that the company is putting work ahead of its love affairs.
"Companies can be successful in this category without lifting intellectual property off another competitor," she said.
Quotes from this Article
Before it's here, it's on the Bloomberg Terminal.
LEARN MORE