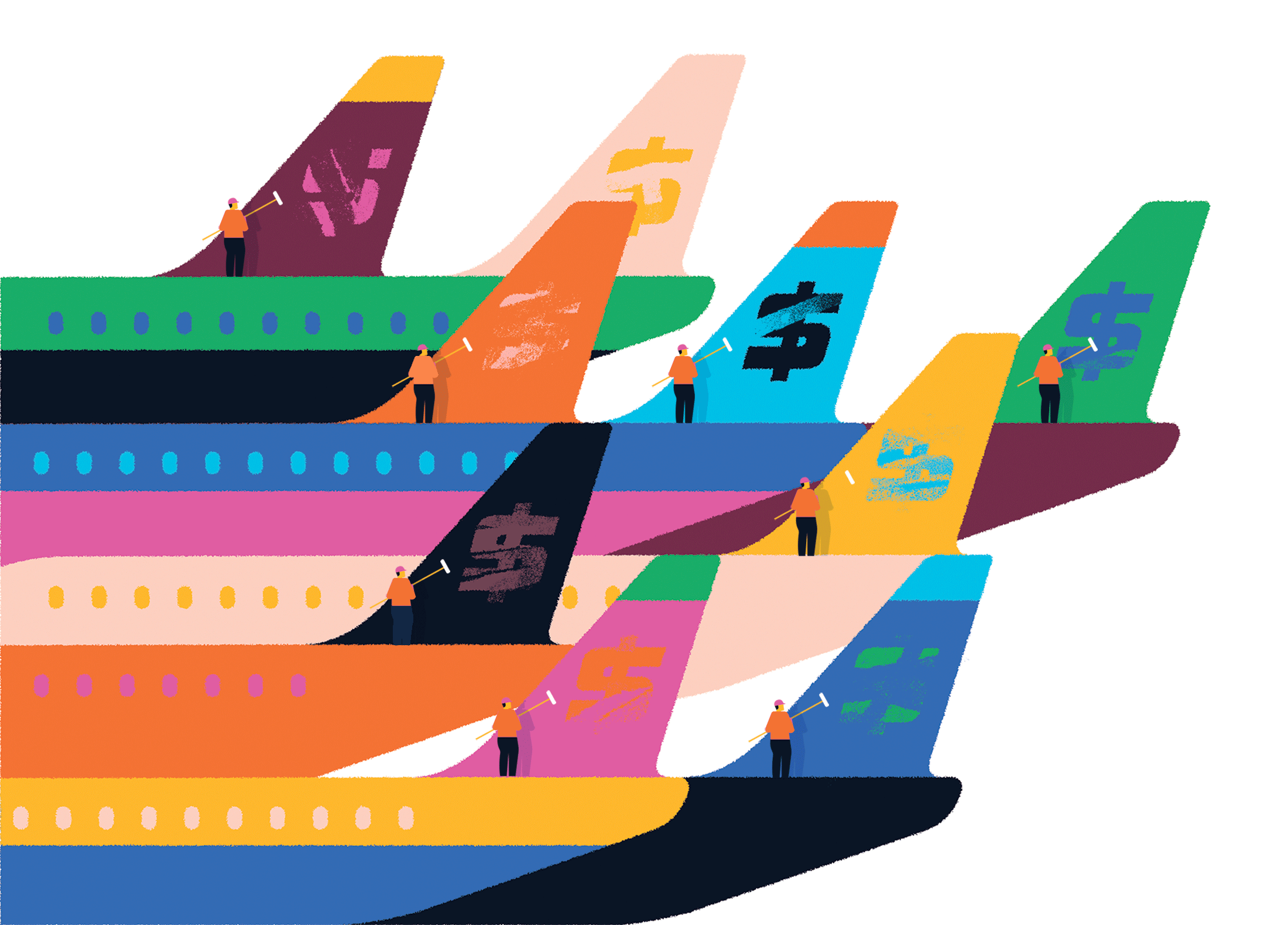 When the travel booking website Hipmunk Inc. began in 2010, it offered the option to sort flights in order of "agony," a way to help customers avoid long layovers or multiple stops. It was a clever marketing idea then, but these days the agony is all too real: Airlines are increasingly nickel-and-diming passengers by charging for carry-on bags or creating cramped economy cabins, leaving shoppers to pick the least-worst option rather than the best.
For 83 percent of travelers, the least-worst flight is also the least expensive, according to a Reuters/Ipsos poll from August. But extra fees are becoming harder to discern; they're poorly disclosed and can vary wildly based on the length of your flight, your destination, your frequent-flyer status, or the plastic in your wallet. It should be simple to determine the cheapest option, but booking air travel has devolved into a guessing game.
That's where services such as Hipmunk are stepping in. During the past three months, a half-dozen online travel agencies and flight aggregators have introduced clever, newly specific comparison-shopping tools that bring transparency to an increasingly murky marketplace.
In January, Google added on-time arrivals data to search results on its Flights product, giving travelers a sense of how often a particular flight is delayed. In March, Kayak and Hipmunk added estimates on bag fees that adjust according to your search parameters, telling you, for instance, whether your luggage is checked free on an international flight. Other companies, including Expedia Inc. and CheapAir.com, are also dabbling in comparison-shopping features that clearly highlight what's included in a ticket and what's not.

Search for a flight from New York to Los Angeles on Kayak, for instance, and you'll see that a basic economy ticket on United Airlines costs $20 less than a coach ticket on Alaska Airlines, but the former won't allow you to bring a carry-on. Modify your search criteria to show flight prices that include one or two checked bags, and Alaska comes out on top. The same search on Google reveals that the late-night flight on JetBlue is chronically delayed by more than 30 minutes, whereas the one on Delta isn't.
Great, right? Even better would be a booking tool that combined all these search features, and the third-party platforms are working toward that future. But sadly, right this minute, the airline companies are fighting to take these tools away from you, banking on the Trump administration's antiregulation fervor to get their way. In December the airlines sent a lengthy series of requests to the U.S. Department of Transportation that's being evaluated. Among the priorities: repealing rules that mandate "full-fare advertising" and eliminating the requirement to display on-time flight and cancellation data during the fare-purchase process. In other words, they're hoping to conceal the data that power third-party distribution channels—and all their shiny new features.
A representative for Airlines 4 America, the leading industry group, tells Bloomberg that the current requirements are "cumbersome" and "add clutter and complexity to the booking screen." But these details are obviously what consumers want; exposing them is just not in the interest of the companies. "The airlines want passengers to have to visit their website. They want to own the passenger," says Charles Leocha, president of advocacy organization Travelers United Inc. "They don't want their competitors to have data on ancillary fees."

Kurt Ebenhoch of watchdog group Air Travel Fairness says the government appeals are part of a systematic pattern to eliminate the third-party middleman. "They're forcing consumers into an Apple buying experience when they want a Best Buy experience," he says. "Airlines want a brand-loyal experience when customers just want to comparison-shop."
It's not only about saving money—ancillary fees cost passengers $7 billion a year—it's about consumer rights. For families traveling with children, transparency on seat selection policies is essential; on-time arrivals data such as Google's can help business travelers avoid missed connections or, worse, missed meetings.
Given the airline industry's formidable lobbying power, Ebenhoch, Leocha, and other consumer advocates are bracing for the worst. But for now, booking engines haven't lost the war on airfare data, and their ability to mine it is creating the most robust, consumer-friendly airfare shopping experience since the advent of the internet. Enjoy it while it lasts.
Before it's here, it's on the Bloomberg Terminal.
LEARN MORE