Trump-China Trade War Sends Jitters Through U.S. Futures
By , , and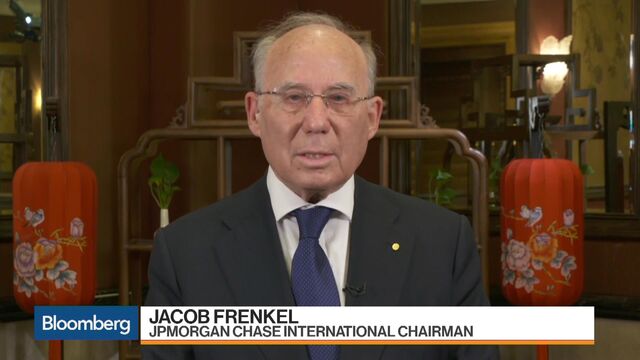 A jittery overnight session for U.S. stock futures again turned volatile just before dawn in New York, as investors braced for an announcement from President Donald Trump that could levy tariffs on more than 100 types of Chinese goods.
Futures on the S&P 500 Index fell as much as 0.8 percent to a session low after Trump was said to impose about $50 billions of tariffs against China. Contracts on the Dow Jones Industrial Average slipped as much as 0.8 percent, while those on the Nasdaq 100 Index fell as much as 1.2 percent.
"Investors are increasingly nervous about the escalation in the narrative towards a trade war between the U.S. and China, it makes markets quite volatile," Stephane Ekolo, equity strategist at TFS Derivatives, said by phone.

"Also, with the U.S. 10-year yield flirting with the psychological level of 3 percent, a lot of people on the equity front have the finger on the trigger," Ekolo said. "You can expect another leg down for stocks the moment the yield hits that level."
While trade was the most proximate explanation, declines in index futures were a continuation of almost two months of volatility that has often defied easy explanation. Along with protectionism, a hodgepodge of concerns are weighing on sentiment, including Facebook's privacy travails, anxiety about Federal Reserve policy and concern about stock valuations.
Thursday's retreat in both U.S. equity futures and European stocks worsened after a slew of downbeat macro data from Europe. Figures showed the euro area's private-sector economy grew at the slowest pace in 14 months in March, while German business confidence continued to drop in March, suggesting that companies' qualms over a potential trade war are dampening optimism even amid the strongest economic upswing in years.
POLITICS/ECONOMY:
Lawmakers said Facebook Inc. CEO Mark Zuckerberg still have to testify before congress after he outlined concrete steps to make sure a leak doesn't happen again
The European Union believes it's on track to be exempted from imminent U.S. tariffs on foreign steel and aluminum, dialing down the risk of a trans-Atlantic trade war, according to EU officials
Link to the U.S. targets most vulnerable to China trade retaliation
Quotes from this Article
Before it's here, it's on the Bloomberg Terminal.
LEARN MORE