business
AT&T, U.S. Square Off on Time Warner Merger as CEOs Look On
By
Lawyers make opening arguments in U.S. lawsuit against deal

Stephenson, Bewkes attend hearing in show of support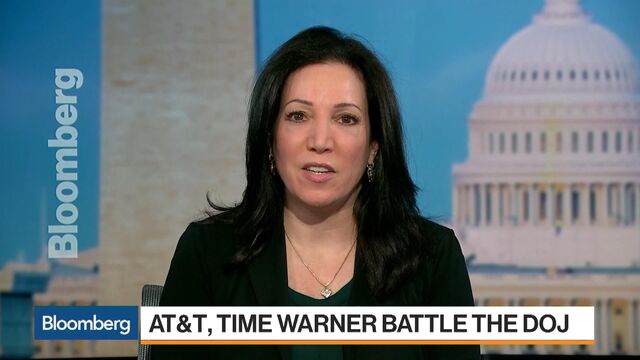 AT&T Inc. and the Justice Department took their first shots in a Washington court over the government's bid to stop AT&T's proposed acquisition of Time Warner, a deal 17 months in the making.
AT&T Chief Executive Officer Randall Stephenson and Time Warner CEO Jeff Bewkes sat in the third row of the courtroom Thursday to watch opening arguments in the trial, underscoring the high stakes for both companies in the U.S. lawsuit against their $85 billion combination.

Craig Conrath, an attorney for the Justice Department, and Daniel Petrocelli, the lawyer for AT&T and Time Warner, offered U.S. District Judge Richard Leon starkly different views of how the merger will affect consumers.
Conrath said it will raise prices for pay-TV subscribers across the country by more than $400 million a year, an estimate Petrocelli said was riddled with flaws. The deal, he argued, will actually lower prices by $500 million.
Stephenson and Bewkes will testify during the trial in defense of the merger, Petrocelli said. Their vision is to create a media and pay-TV powerhouse that can compete in the age of Netflix and Amazon -- as viewers increasingly drop costly pay-TV packages for cheaper options that let them watch movies and TV shows when and where they want.

"If you're not keeping up with these people you're not going to be in business very long," Petrocelli said about online video rivals. "This transformation is what makes this merger imperative."
For more, read: U.S. Versus AT&T: The Trial Over the Future of Media Kicks Off
The industry's changing competitive landscape is one of the reasons why the Justice Department's antitrust division opposes the deal. In the government's view, AT&T wants to slow the industry's transition to online video, and protect its "cash cow" -- the traditional pay-TV bundle that it offers through DirecTV, Conrath said.
Combining with Time Warner gives it the tools to do that, he argued. That's because Time Warner's Turner Broadcasting, which includes CNN, TNT, and TBS, is critical for new competitors like Dish Network Corp.'s Sling TV. By owning Time Warner, AT&T can raise the price for its programming to harm those rivals, Conrath said.

Time Warner would also give AT&T leverage over rival pay-TV companies during programming negotiations, according the government. AT&T would be able to raise prices on distributors, which in turn would be passed on to consumers. Before the merger, Time Warner would worry about losing subscribers if it couldn't reach a deal with distributors. But AT&T's incentive would be different, Conrath argued. That's because some subscribers would switch to DirecTV if they can't get Turner programming like the NCAA tournament.
"Time Warner would be a weapon for AT&T," he said. "Consumers will pay higher prices as a result of weaker competition."
— With assistance by Scott Moritz
Before it's here, it's on the Bloomberg Terminal.
LEARN MORE