markets
Will Peru's President Be Impeached? Investors Place Their Bets
By
Some investors expect a rally no matter how vote goes down

Peru will benefit by moving past the political dispute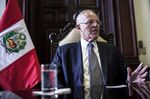 Just three months ago, traders agonized over the prospect of Peruvian President Pedro Pablo Kuczynski getting pushed out of office.
He survived the impeachment attempt despite record-low public approval and limited support within Congress. The market rallied. Now, some investors are eyeing the possibility of another surge as the former Wall Street veteran faces a second impeachment vote.
Peru's President Stares Down Second Impeachment Vote: QuickTake
For Carlos Rojas, the founder of Lima-based Andino Asset Management, there's limited downside ahead of the showdown. He figures that if Kuczynski loses, he's likely to be replaced by a vice president with a very similar agenda; if he wins, the government can get back to the business of governing. In any event, Peru will benefit by moving past the political dispute.
"Something good happened this week -- my cable TV isn't working, so I can't see the news," he joked in an interview. Rojas, whose fund returned 23 percent last year by betting on Ajecorp BV's bonds and shares of Cementos Pacasmayo SA and Alicorp SA, said he plans to buy the sol on weakness before the vote.
The currency has fallen 0.9 percent this year, the second-most among major Latin American peers, amid accusations from opposition lawmakers that Kuczynski lied about his ties to scandal-tainted Brazilian builder Odebrecht SA. That disappointed investors who were counting on Kuczynski to push through an economic overhaul that would boost growth while also attracting foreign investment, accelerating infrastructure projects and lowering taxes.
Rojas, who expects Kuczynski to lose by a hair, said the market has priced in all the bad news and made traders forget that Peru actually has solid fundamentals -- its largest-ever commercial surplus, inflation at the lowest in almost eight years and the third-highest growth rate in South America. A smooth transition of power to Vice President Martin Vizcarra could boost the sol closer to its fair value of 3.1 per dollar, according to Rojas.
The opposition-controlled Congress passed the motion to debate the impeachment with 87 votes -- coincidentally the exact total needed to eject him and fewer than the 92 it had for the same motion in December. Only two Peruvian presidents have been successfully impeached over the past two centuries (three if you count Alberto Fujimori, who attempted to ward off his ouster by resigning via facsimile after fleeing to Japan).
Here's what other money managers and analysts had to say about the vote (views expressed before video footage late Tuesday of alleged vote buying):
Victor Fu, director of emerging-market sovereign strategy at Stifel Nicolas & Co. in New York
Base case: Kuczynski will survive again.
Market reaction: Peru's sol could probably rally to 3.21 per dollar or better, even if Kuczynski is impeached, given Peru's solid institutions.
Delphine Arrighi, a money manager at Old Mutual in London
Base case: Kuczynski survives by a hair. Opposition undermines his legitimacy. The Peruvian sol stays range-bound to slightly weaker.
Best case: Vizcarra assumes presidency, forges alliances within Congress and Peruvian assets rally on near-term optimism.
Top investment: "We still like rates, but it's a low conviction trade at this point."
Shamaila Khan, director of emerging markets at AllianceBernstein in New York
Market reaction: "Since the outcome in Peru is continuity in policy with or without PPK, I don't think the market is going to react much either way. As was the case the last time, the spikes won't last long."
Maria Luisa Puig, an analyst at Eurasia Group in London
Base case: Kuczynski survives impeachment by a few votes, but cedes power to Vizcarra before year-end, resulting in policy continuity.
Key risk: Although an early election appears unlikely (20% odds), as it would depend on Vizcarra's reluctance to take office, that would increase the risk of an anti-establishment candidate shifting the policy direction.
Political analysis: "This time, the vote will likely be even tighter. Our estimates put the number of those in favor of impeachment at 82, those still undecided at 17, and those against at 31, which would allow him to narrowly survive the vote."
Mario Castro, an analyst at Nomura Securities International Inc. in New York
Base case: Kuczynski barely survives. Muted market reaction.
Currency strategy: Beyond heightened short-term volatility, impeachment is unlikely to have a meaningful impact on the sol. Over the medium-term, the currency will probably underperform against commodity peers regardless of the president. The market could see a "marginal reprieve" if there's a smooth transition to Vizcarra.
Before it's here, it's on the Bloomberg Terminal.
LEARN MORE