markets
The Paradox of European Stocks' Failure to Catch Up With U.S.
By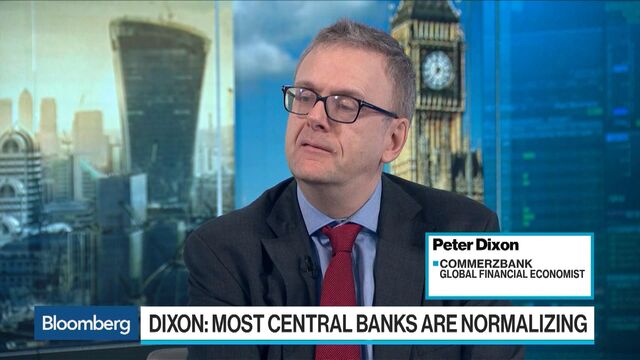 JPMorgan Chase & Co. and Natixis are just a few banks recommending European stocks over U.S. equities, citing valuations and booming earnings among other factors. Then why do the region's stocks continue to underperform?

While the S&P 500 Index has been advancing steadily since 2009, reaching a record high in January after gains of about 300 percent, the Stoxx 600 Europe index rose just 130 percent in the same period and has continued to lag. That surprises analysts, with Natixis calling the underperformance a "paradox."
Here are some of the winning fundamentals of European equities:
European equities' valuations are the cheapest versus U.S. stocks since 2009
European corporate Ebitda margins are rising and are now the closest to those of the U.S. since 2012
When removing the impact of the U.S. tax reform, estimated earnings growth is lower than in Europe, according to Natixis
U.S. technology stocks are "outright expensive," says JPMorgan, and without them, Eurozone equities are outperforming the U.S. since the start of the year
Financial stocks, which have a large weight in Eurozone stock markets, should outperform the market this year, according to JPMorgan
And yet, here's what analysts say is going wrong for European stocks compared to the U.S.:
Euro

European companies get roughly half their sales from abroad, so the direction of the euro matters. The currency's 15 percent rally against the dollar over the past year has curbed the gains in the Stoxx Europe 600, according to analysts.
"As we talk about stronger growth in the Eurozone, that will come with a price tag, which is pressure to change the European Central Bank's monetary policy and the stronger euro," Roland Kaloyan, head of European equity strategy at Societe Generale SA, said in an interview. "And this is a very important factor for Eurozone equities, because major companies have a lot of exposure to exports."
This is why SocGen recommends focusing on companies linked to domestic demand and small and mid-caps as opposed to large-cap global firms, which usually are more sensitive to the stronger euro.
But according to Commerzbank's Kettner, European stocks could outperform if the European Central Bank surprises the market by being "much more dovish" than anticipated, which would weaken the euro, helping corporate earnings.
Fed
This week's looming U.S. Federal Reserve meeting -- with its virtually guaranteed interest-rate hike -- is seen damaging the U.S. equity rally, which would seem like a perfect opportunity for European stocks to catch up or even beat the U.S. peers. Not so fast, says Commerzbank AG.
"Outperforming the U.S. will be really, really tricky for European equities," said Max Kettner, a London-based cross-asset strategist at Commerzbank. "And if we see U.S. equities genuinely sell off because of the Federal Reserve's rate increases, European stocks will suffer even more -- even if the dollar rises and euro depreciates."
Kempen Capital Management, which has about 50 billion euros ($62 billion) under management, on Tuesday reduced its overweight in European stocks, citing the strength of factors that are supportive of U.S. equities, such as the dollar's weakness to the euro and upgrades of earnings forecasts as a result of President Donald Trump's tax cuts. Although global investors are about 40 percent overweight Eurozone stocks, there has been a downward trend since October, according to Bank of America Merrill Lynch.
The Stoxx Europe 600 Index retreated 0.2 percent on Wednesday, while U.S. futures traded lower as traders await the Federal Reserve's first policy decision since Jerome Powell took the helm.
Economic Growth
One of the reasons European stocks have been lagging the U.S. market, according to SocGen, is the length of the economic recovery, which has been visible in the U.S. since at least 2010, while the Eurozone has been seeing steady economic growth only since 2013.
Although the good news for European stock investors is that the European Central Bank is unlikely to start raising rates before 2019, the unwinding of quantitative easing set for this year will remove "a major trigger" for traders, who might need to wait for more clarity before buying the region's equities, said Guillermo Hernandez Sampere, head of trading at MPPM EK in Eppstein, Germany.
Corporate Earnings

One of the key reasons U.S. stocks have been outperforming euro equities, according to JPMorgan, is the U.S. tax reform, which drove upgrades of earnings estimates. The S&P 500 index's earnings growth is seen at about 21 percent in 2018, compared to 4.5 percent for the Stoxx Europe 600, according to data compiled by Bloomberg. However, JPMorgan sees the tax cuts momentum as mostly priced in and expects European earnings growth to beat this year's median forecast with a 12 percent advance.
Sectors
The U.S. equity market has won from the surge of technology shares, which have been the "shining stars" of the rally and have a share of about 25 percent in the U.S. stock market, compared to just 4.5 percent in Europe, according to Commerzbank.
Brexit
The U.K.'s exit from the European Union will be "keeping a lid on U.K. equities as uncertainties loom large and also because there is no more support from a lower pound sterling," says Commerzbank's Kettner.
— With assistance by Blaise Robinson, and Aleksandra Gjorgievska
(
Updates with today's market reaction under the Fed subhead.
)
Before it's here, it's on the Bloomberg Terminal.
LEARN MORE