politics
Saluting Putin May Sap Trump's Mueller Fight
By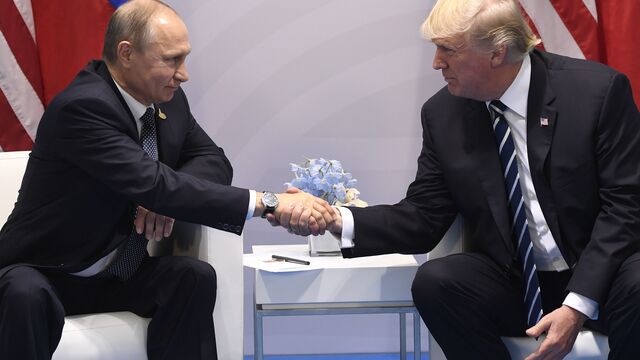 Want to receive this post in your inbox every morning? Sign up for the Balance of Power newsletter, and follow Bloomberg Politics on Twitter and Facebook for more.
When Donald Trump called Russian leader Vladimir Putin to congratulate him on his election victory, the U.S. president steered clear of Putin's possible role in securing his own path to power in 2016.
Trump's decision to not bring up election interference, including days-old sanctions against a "troll farm" and Russian intelligence services alleged to have meddled on Trump's behalf, prompted fresh criticism of the president's posture towards Moscow.
Congratulating Putin against the advice of his national security aides, according to the Washington Post, Trump also didn't address the nerve-gas attack on a former spy in Salisbury, England, that the U.K. has blamed on the Russian government.
Trump's apparent non-confrontational tone intensifies the difficulty that his fellow Republicans face in defending his efforts to discredit Special Counsel Robert Mueller's campaign-meddling probe.
Amid growing concern that Trump could try to oust Mueller, Senate Majority Leader Mitch McConnell broke his silence yesterday on the president's most recent Twitter tirade, saying the special counsel "should be allowed to finish his job."
"I don't think Bob Mueller is going anywhere," McConnell said.

Global Headlines
Saudi arms race | What's a $3.5 billion discount between allies? Not much, it seems, when it's on an anti-missile system the U.S. is selling to Saudi Arabia for $15 billion. Welcoming Crown Prince Mohammed Bin Salman to the White House, Trump said the kingdom has completed a total $12.5 billion in defense purchases since his visit to the Gulf state last year. There was no mention of the Saudi-led bombing campaign in Yemen, which has killed thousands of civilians and displaced millions.
Facebook under fire | The social media company is struggling to respond to growing demands from Washington and European capitals to explain how millions of its users' personal data could be exploited by a consulting firm that allegedly helped Trump win the presidency. The uproar over Cambridge Analytica has sparked demands from U.S. and European lawmakers for Facebook Chief Executive Officer Mark Zuckerberg to address the matter amid scrutiny from regulators.
The unions vs. Macron | French unions are hoping to finally land a blow against President Emmanuel Macron with a wave of strikes against plans to boost competition and cut benefits at the state rail network. Labor organizers are seeking to build momentum ahead of 36 days of walkouts starting next month. But with two-thirds of voters backing the reforms, they're taking a big risk with plans to disrupt French holidays.
Fight for Congress | A Bernie Sanders-backed Democratic challenger narrowly lost her bid to oust centrist U.S. Representative Dan Lipinski in one of the marquee races of yesterday's Illinois primary. The incumbent's victory helps set the stage for a fierce battle to control Congress in November -- a fight that Trump told donors last night there was "no reason" Republicans couldn't win.
Lew's trade warning | The U.S. risks precipitating a trade war by having a "shouting match" with China, former Treasury Secretary Jack Lew told Bloomberg Television in Beijing. "Conflict isn't going to resolve a lot of those issues," said Lew. His successor, Steven Mnuchin, pressed Chinese officials for more reciprocal trade ties during the Group of 20 meetings this week in Buenos Aires.
What to watch today: 
U.S. lawmakers are edging closer to a potential lapse in government funding at midnight Friday after they missed another target to unveil a $1.3 trillion spending bill. Talks are ongoing.
German Chancellor Angela Merkel makes her first big policy speech since starting her fourth term
And finally... In the world's most murderous country, gun control is starting to lose its appeal. As Brazil's October elections draw closer, polls show support for gun ownership is rising amid a wave of violence that kills 60,000 citizens each each year. Now a leading candidate -- hardline conservative Jair Bolsonaro -- is promising to allow law-abiding citizens to arm themselves.

Before it's here, it's on the Bloomberg Terminal.
LEARN MORE