politics
Macron Aims to Build Bridges With Dutch Leader on Euro Zone
By , , and
Macron says EU budget needs another structure for transparency

Rutte opposes Macron's plan for more European integration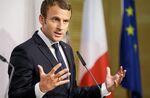 French President Emmanuel Macron and Dutch Prime Minister Mark Rutte will discuss the next EU budget at a meeting in The Hague tonight, before European Union leaders meet in Brussels on Thursday.
The EU budget needs "another structure to become more transparent," Macron told journalists before heading into the meeting with his Dutch counterpart. "The new EU budget can't be made without making adjustments," he added.
Talks between the two leaders will also cover disagreements over further integration of the euro area, an official from the French president's office said at a briefing in Paris earlier Wednesday. Macron isn't aiming to form a united front with his Dutch counterpart, but he does want to begin to narrow the gap between them, said the aide, who asked not to be named in line with French government practice. In The Hague, the French president said that "France and The Netherlands are in agreement that status quo is not an option."
Macron is facing an uphill battle to convince partners across the euro zone to embrace his vision of a federal-style Europe with more integration and more financial risk-sharing. He unveiled his plan in September.
'Excellent' Relations
Rutte and Macron will also discuss topics where they have more similar views, including the completion of a banking union, carbon markets and the need for European technological innovation funding, the official said earlier. Rutte called Dutch relations with France "excellent" and said cooperation between The Netherlands and France can give an impulse Europe, as evident in "how we deal with the U.S. steel issue."
Rutte has said he doesn't see the need for the French propositions such as a finance minister or a budget for the euro area, since those functions should be "the responsibility of each EU country." The Dutch liberal has also said repeatedly over the past months that France and Germany should not seek to make decisions for the rest of Europe.
The Netherlands, which has always seen London as a counterweight to the dominant Paris-Berlin axis in European policy, found itself looking for new allies with the U.K. set to leave the bloc. This month it teamed up with countries including Finland, Ireland and the three Baltic nations, to formalize opposition to Macron's ambitions. They want a lid on EU reforms, saying this week that strengthening the euro "requires first and foremost decisive actions at the national level."
In a speech in Berlin earlier this month, Rutte laid down Dutch markers for a post-Brexit future, saying Britain's departure is an opportunity to trim the EU's joint budget, to which The Netherlands is a net contributor.
German Chancellor Angela Merkel visited Paris last Friday and she and Macron two pledged to present a road map for a stronger euro area by June, signaling a push to overcome historic differences. Macron's plan has received a guarded response in Germany and was put on ice by almost six months of post-election stalemate in Berlin, which ended with Merkel's swearing-in last week. Differences, including over risk-sharing within the euro area, remain.
— With assistance by Gregory Viscusi
(
Updates with comments from Macron, Rutte throughout.
)
Before it's here, it's on the Bloomberg Terminal.
LEARN MORE