markets
Leonardo Seeks U.K. Deals to Protect Storied Helicopter Site
By , , and
Britain urged to buy more rotor-craft and support exports

CEO says Brexit shouldn't disrupt European fighter cooperation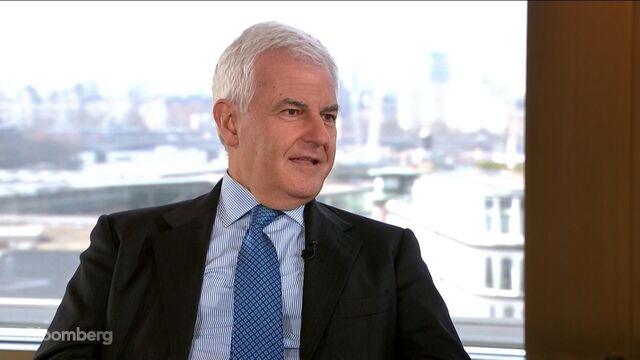 Britain was told it must buy more Leonardo SpA helicopters and help fund an export drive to safeguard a factory that rose to global prominence in the 1980s when a tussle over its future almost toppled Margaret Thatcher.
With sales of rotor-craft in the doldrums following a slump in demand from the offshore oil industry, Rome-based Leonardo, owner of the former Westland plant in Yeovil, southwest England, needs British financial backing to ensure production, Chief Executive Officer Alessandro Profumo said in an interview.
"I think it's very important to understand what the U.K. government will do in terms of procurement on one side and export support on the other," Profumo, who took over at Leonardo last May, said at Bloomberg's London offices. "It's difficult to give a guarantee if the products don't have demand."
The Yeovil factory, which employs about 3,000 people and is Britain's sole helicopter producer, currently assembles the AW101 Merlin naval transport and the AW159 Wildcat anti-submarine model. While the former has significant orders, that backlog must be maintained, and the Wildcat needs further U.K. purchases or a sustained export effort, Profumo said.
Brexit Bargaining
Though Britain's decision to quit the European Union may hurt labor flexibility, pushing up costs, the CEO told Bloomberg TV, it has strengthened Leonardo's hand in U.K. talks. "Brexit is in this perspective positive because clearly the U.K. is focused on industrial activity," Profumo said, adding that he has already had "many meetings" with Ministry of Defence export officials.
Concerns surrounding the future of Yeovil include the possibility that Leonardo could consolidate manufacturing at its main Italian helicopter plant at Vergiate, near Milan, or move output to its PZL Swidnik factory in Poland.
Shares of the former Finmeccanica, renamed last year after Leonardo da Vinci, who envisaged the helicopter centuries before it became a reality, fell as much as 1 percent and traded down 0.2 percent at 9.45 euros as of 10:58 a.m. in Rome, valuing the company at 5.46 billion euros ($6.7 billion).
The U.K. chopper business gave its name to the Westland Affair in 1986 when a planned takeover by U.S.-based Sikorsky led to a rift between Prime Minister Thatcher, who backed the move, and Defense Secretary Michael Heseltine, who favored a European deal. Heseltine resigned and Industry Secretary Leon Brittan was forced out, though Thatcher survived four more years.
Sikorsky's bid prevailed and both it and U.K. aerospace group GKN Plc became Westland shareholders, before GKN took full control in 1994 and went on to merge the business with Leonardo's Agusta arm in 2000.
Revival Seen
Leonardo, which bought GKN out in 2004, has overhauled its helicopter operation amid assembly-line issues and a slump in demand as the lower price of crude causes oil companies to rein in activities. While profit, sales and new orders all fell at the business last year, restructuring is largely complete, Profumo said, with earnings forecast to pick up over the course of 2018.
The helicopter order backlog was last week bolstered by a 3 billion-euro deal to supply 28 NH90 military choppers to Qatar, though the model is produced in a joint venture with Airbus and the sale won't help the Yeovil site.
There's sufficient demand for Europe to support two competing rotor-craft manufacturers in Leonardo and Airbus's former Eurocopter division, Profumo said, though the comparative lack of military orders that support Boeing Co., Lockheed Martin Corp.'s Sikorsky and Textron Inc.'s Bell in the U.S. means there may need to be rationalization in some areas, such as attack helicopters.
Britain is likely to remain a central player in European warplane manufacturing after Brexit, according to the CEO, who said he doesn't see the U.K. being squeezed out as moves begin to bring France into future fighter production. That's after Airbus's military-aircraft chief said last year that a "continental" approach is more likely, especially with London-based Eurofighter partner BAE Systems Plc drawing closer to the U.S. via the F-35 program.
The current Eurofighter Typhoon is built in Britain, Germany, Spain and at Leonardo's factory in Caselle, near Turin.
— With assistance by Alessandra Migliaccio
(
Updates with comments on European rotor-craft industry, fighter production starting in 12th paragraph, adds shares in seventh.
)
Before it's here, it's on the Bloomberg Terminal.
LEARN MORE