Five Things You Need to Know to Start Your Day
By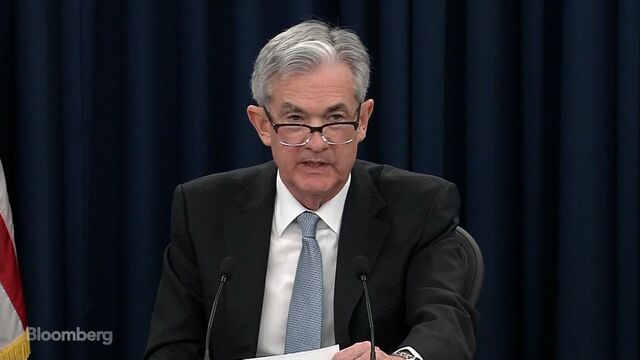 Want to receive this post in your inbox every morning? Sign up here
The Fed raises interest rates, more U.S. tariff announcements loom, and profits at Chinese banks are set to surge. Here are some of the things people in markets are talking about.
An Optimistic Fed
Federal Reserve officials, meeting for the first time under Chairman Jerome Powell, raised the benchmark lending rate a quarter-point and forecast a steeper path of hikes in 2019 and 2020, citing an improving economic outlook. Policy makers continued to project a total of three increases this year. "The economic outlook has strengthened in recent months," the policy-setting Federal Open Market Committee said in a statement Wednesday in Washington. Officials repeated previous language that they anticipate "further gradual adjustments in the stance of monetary policy." Powell did say asset prices were elevated in some areas.
More Tariffs on the Way
U.S. President Donald Trump plans to announce trade sanctions on China as soon as Thursday over intellectual property violations, two people familiar with the matter said. The president is weighing duties of as much as $60 billion worth on Chinese goods though the package could still be altered, according to the people familiar with the matter. A trade war between the U.S. and China would probably take a bite out of the world's two-largest economies, but wouldn't do enough damage to pitch either into recession, provided it's contained, economists say. China is preparing to hit back at Trump's planned sweeping tariffs with levies aimed at industries and states which tend to employ his supporters, the Wall Street Journal reported on Wednesday
Good Times for Chinese Banks
Profits at China's top banks are set to surge after two dismal years, boosted by a strengthening economy and disproportionate benefits from the government's campaign to cut debt. Industrial & Commercial Bank of China and its four biggest peers will report next week a combined net income of 952 billion yuan ($150 billion) for 2017, an increase of 2.9 percent on year and the fastest expansion since 2014, according to consensus analyst estimates compiled by Bloomberg. That's forecast to pick up to 8.1 percent in 2018 as rising global interest rates boost margins. "China's banks have shaken off the doldrums," said Richard Cao, a Shenzhen-based analyst at Guotai Junan Securities Co. "Their earnings growth will accelerate for the next two to three years."
Opening Up
China will permit foreign companies to access its $27 trillion payments market, further opening up the world's second-largest economy. Foreign players can start applying for payment licenses and will be treated the same as local firms, the People's Bank of China said in a statement on Wednesday. Applicants must set up local units, establish payment infrastructure -- including disaster recovery systems -- and store client information domestically, the central bank said.
Coming Up…
Thursday is poised to be another massive day for markets in Asia and beyond. New Zealand kicked things off, with officials holding interest rates at a record low and indicating they don't expect to raise them anytime soon. Monetary policy meetings are also on tap for Indonesia, the Philippines and the U.K. As the day grinds on, Angela Merkel will outline her fourth-term policy goals, while EU leaders meet in Brussels to sign off on Brexit guidelines, discuss U.S.-EU trade, and examine U.K.-Russia tensions. There are also flash PMIs for Europe and the U.S. to savor as well.
What we've been reading
This is what caught our eye over the last 24 hours.
— With assistance by Garfield Clinton Reynolds, and Craig Torres
Quotes from this Article
Before it's here, it's on the Bloomberg Terminal.
LEARN MORE