markets
ECB Faces Year of Living Uncertainly After Conclusion of QE
By and
Interest rates could rise in 2019 just as Draghi's term ends

Policy makers are said to be avoiding debate over rate path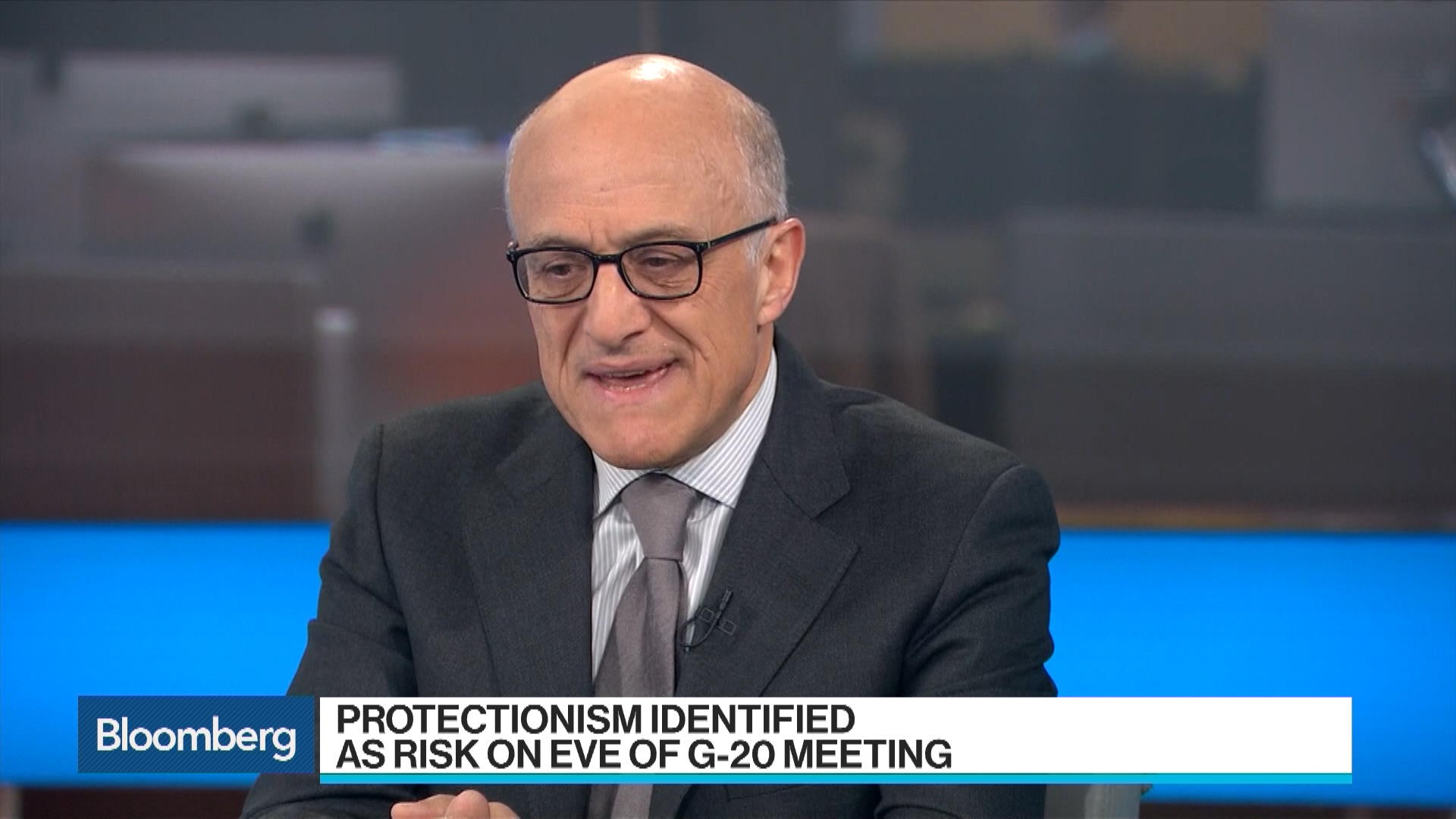 The European Central Bank is on a slow walk toward concluding four years of quantitative easing, and that challenge might look easy compared with what comes next.
While policy makers are comfortable with market expectations for bond purchases to end this year, the bigger specter of 2019 looms large. That's when the Governing Council might dare to actually withdraw stimulus for the first time since 2011 with one or more interest-rate increases, just as President Mario Draghi makes way for a successor whose identity could be unresolved until well into next year.
Rate hikes against the backdrop of a maturing economic expansion -- and a potential global trade war -- will be a fraught task for the ECB, which has twice aborted a change of course since the 2007 financial crisis. But the doubt swirling around the future leadership of an institution whose president drove such expansionary monetary policy clouds the outlook even further for markets.

"There is very little visibility for investors from the second half of next year onward," said Marchel Alexandrovich, an economist at Jefferies in London. "It's not just that there are very few templates for what happens next, but also that there will be new actors on the stage."
Market pricing shows investors expect interest rates on 3-month loans between banks to rise less than 20 basis points by June 2019 and about 40 basis points by the end of the year, which could mean the ECB's deposit rate rising to zero from minus 0.4 percent. That's subject to considerable uncertainty though, heightened by the ECB's reluctance to discuss anything but its next tweak to policy language.
By contrast, the U.S. Federal Reserve is moving ahead resolutely with policy tightening, and is expected to raise interest rates on Wednesday. Some observers predict its new chairman Jerome Powell will unveil fresh forecasts and language that may hint at four rate hikes this year, rather than the three increases anticipated in December.
The ECB's Governing Council is currently focused on how to communicate the end of its asset-purchase program, which officials accept will be brought to a halt by the end of this year, according to euro-area officials familiar with the matter.
No Talks
The debate over rates is far more muted, the people said, asking not to be identified because discussions are confidential. Policy makers are aware of the need to strengthen the vague language that says borrowing costs will stay at current levels until "well past" the end of net asset purchases.
At the same time, there have been no formal talks on when the key rates might be changed, in which order, or the pace at which they would rise, the people said. An ECB spokesman declined to comment.
While Draghi is just one of 25 Governing Council members -- and can be outvoted -- his influence is critical for investors. He overcame internal challenges to implement unprecedented stimulus and has repeatedly warned against ending those measures too soon.
One consistent opponent, Bundesbank President Jens Weidmann, is the current favorite among economists to replace him. While the German has toned down his language in recent months, the concern remains that he would react more hawkishly than Draghi to economic developments.
Horse Traders
In any case, it's far from clear he'll get the job, which will be negotiated by governments who are also seeking to share out other high-powered European appointments, including the presidency of the European Commission.
Read more: Germany Ready to Sacrifice Weidmann as a Pawn in EU Chess Match
Adding to the quandary for investors, the six-person Executive Board will change two-thirds of its members by the end of 2019. Vice President Vitor Constancio will be replaced by Spain's Luis De Guindos this June. Successors have yet to be sought for Peter Praet, the ECB's chief economist, who leaves in May 2019 and Benoit Coeure, head of markets, who goes in December that year.
The two board members whose terms have longer to run, Sabine Lautenschlaeger and Yves Mersch, have typically been the most hawkish of the officials. Mersch warned on Monday against making policy commitments that bind policy makers too far into the future.
Don't Assume
For now though, Draghi and Praet are leading the argument that weak inflation and uncertainty over economic slack warrant patience and persistence in pursuing stimulus. While the ECB used its last policy meeting to drop its pledge to raise the pace of monthly bond-buying if the economic outlook worsens, Draghi described that as a "backward-looking" decision without any implications for future actions.
"I don't think the ECB has already made up its mind" on the timing of a rate increase, said Daniel Lenz, head of euro-zone market strategy at DZ Bank AG in Frankfurt. "Open is also the question whether the council will at first only hike the deposit rate or whether we'll see a combined move -- a hike of both the deposit and main refinancing rate."
— With assistance by Richard Jones, Charlotte Ryan, Alessandro Speciale, and Carolynn Look
(
Updates with Federal Reserve meeting in sixth paragraph.
)
Before it's here, it's on the Bloomberg Terminal.
LEARN MORE