markets
Credit Suisse's Thiam Says Bank Seeing 'Very Confused' Quarter
By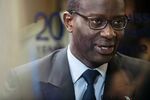 "January was a strong month, February was strange and March is a bit all over the place."
That's how Credit Suisse Group AG Chief Executive Officer Tidjane Thiam on Wednesday described trading conditions as markets seek direction following a sudden return of volatility after a long period of calm. Overall, he said at a London event organized by Bloomberg, the quarter was "very confused."
Volatility came back with a bang last month, when U.S. stocks had their worst single-day plunge in almost seven years and 10-year Treasury yields reached the highest level in more than four years. While banks including JPMorgan Chase & Co. and Citigroup Inc. have forecast higher trading revenue for their first quarter, Thiam joined executives at Deutsche Bank AG in striking a slightly less optimistic tone than just weeks ago.
Shares of both lenders slumped Wednesday, with Credit Suisse dropping 3 percent in Zurich and Deutsche Bank losing about 5 percent in Frankfurt.
Marcus Schenck, the co-head of Deutsche Bank's investment bank, said that while market swings are generally good for investment banks, he expects more abrupt spikes in volatility as the return to a more normalized monetary policy creates risks. Deutsche Bank's finance chief, James von Moltke, cautioned at a separate event that the securities unit was facing headwinds from a stronger euro and higher funding costs in the unit.
Credit Suisse said in February that trading revenue had rebounded at the start of the year along with unsteady markets, in what Thiam then said was evidence that the trading unit was alive and well after two years of cost cuts. On Wednesday, the CEO, speaking after the panel discussion, cautioned that while there are positive tailwinds from the economy, "people are just sitting on the sidelines" recently.
The swings in volatility and their unpredictability strengthen the Swiss lender's rationale to focus more on wealth management, according to the executive.
"It reinforces our strategy -- we rightsized the markets business because it is very market dependent and we don't want our economics to be driven by things that change from one day to another," Thiam said.
Before it's here, it's on the Bloomberg Terminal.
LEARN MORE