Photo Illustration: Tom Hall/Bloomberg
business
Brexit Bulletin: Cracks in the United Front
By
Officials admit to tensions over what the EU should offer U.K.

The future of the City is up for grabs
Sign up to receive the Brexit Bulletin in your inbox, and follow @Brexit on Twitter.
Cracks are starting to emerge in the European Union's united front.
After a year of remarkable unity among the 27 remaining countries, there was clear evidence on Tuesday of tension as the bloc formulates its position going into trade talks with the U.K. The issue was financial services and how harshly the City should be treated in the final trade deal, Ian Wishart reports from Brussels.
New wording was added to the negotiating guidelines on financial services and two EU officials said it was deliberately vague as it reflected the internal debate among the 27. France and Luxembourg – on opposite ends of the spectrum when it comes to the role for U.K. banks post-Brexit – led the effort to get the new wording included. Luxembourg has long called for a pragmatic approach on financial services, while France has been more hardline about the sacrifices Britain has to make if it's leaving the single market.

Last week, Ian reported that differences in national interests were starting to be aired in private, straining the unity. Some countries wanted to mention specific industries and address their particular concerns in the draft guidelines. Others wanted the guidelines to remain broad to facilitate unity and give negotiators flexibility as the British government's position evolves.
The disciplined unity displayed so far has surprised even those on the EU side. It has also arguably helped talks proceed to this point. While the U.K. may seek to divide and conquer (Brexit Secretary David Davis has spent more time visiting EU capitals this year than in Brussels), a split EU may not be in the U.K.'s interests: negotiating with a divided bloc would be more complex and certainly take longer than dealing with a united one.
Chief EU negotiator Michel Barnier on Tuesday hinted at the trouble ahead.
"The part that comes at the end is often the most difficult," Barnier told reporters in Brussels. "We have to work hard together, in mutual respect, and seek solutions." 
Brexit Latest
Peak ERG? | What can explain the sudden reasonableness of Jacob Rees-Mogg and his fellow euroskeptics, just as Prime Minister Theresa May is making some of the biggest concessions yet to the EU? Rob Hutton argues that it's a question of math. Just a month after their veiled threat to oust May if she didn't give them the Brexit they want, they might just have realized they don't have the decisive strength in numbers they thought they did.
Little Faith | Nearly two-thirds of voters think the EU will come out of Brexit talks better than the U.K., according to a poll by BMG for Left Foot Forward. Among Leave voters, 39 percent think the EU will be come out on top, with 61 percent optimistic about the U.K.'s chances of doing better.
Can We Change Our Mind? | A Scottish court will examine whether the U.K. has the right to unilaterally scrap its plan to leave the EU after appeal judges allowed the case to proceed. A cross-party group of politicians is pushing for a legal ruling on whether Britain can withdraw its letter to the EU that triggered the Article 50 exiting process. It wants Britain to be able to choose to stay in the EU if lawmakers in London vote against the final Brexit deal.
Davis's Gibraltar Gaffe | The EU's plan to endorse a post-Brexit transition deal encountered a last-minute hitch when Spain raised concerns about the treatment of Gibraltar. The transition deal doesn't cover the U.K. territory unless Spain explicitly agrees, but David Davis told reporters this week that it did. The Madrid government is worried that the draft fails to make sufficiently clear that it doesn't. EU officials don't expect it to be a deal-breaker, but it's a reminder that Gibraltar is another one of those thorny issues that needs sorting before the exit treaty can be signed.
Leonardo's Opportunity | Italian helicopter maker Leonardo SpA sees an opportunity in Brexit. The company, which owns Britain's only helicopter producer, wants the U.K. government to buy more choppers and fund an export drive in order to safeguard its factory in southwest England. Brexit is strengthening the company's hand in talks, according to CEO Alessandro Profumo. "Brexit is in this perspective positive because clearly the U.K. is focused on industrial activity."
Unconditional Solidarity | Ireland is getting love-bombed by the EU. The latest show of support was from German Chancellor Angela Merkel, who said Ireland had her nation's unconditional support. "Ireland can count on us – and that isn't based on any other conditions," Merkel said at a news conference with Irish Prime Minister Leo Varadkar in Berlin on Tuesday. "That's valid in itself."
Less Aggression Please | Ireland's government should tone down its approach on Brexit, says Democratic Unionist Party leader Arlene Foster. "I have sensed over this past year quite a lot of aggression," Foster said in a Bloomberg Television interview. "I hope we can get over that. Let's cut out the aggression and move on to doing what is right."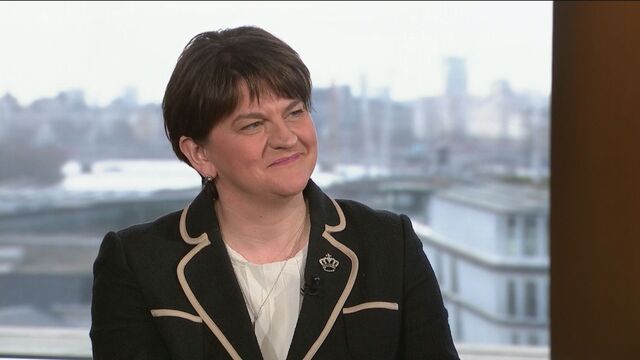 And Finally...
Fishermen will sail up the Thames and dump fish overboard outside Parliament on Wednesday to protest against the government agreeing to stick to EU rules on fishing for two more years after Brexit.
The concession made by Theresa May in order to secure the transition deal has sparked fury among Scottish lawmakers of all parties and members of parliament for other fishing constituencies. Many fishing communities voted to leave the EU to break free from EU quotas that they say punish U.K. fleets.
Hardline Brexit supporter Jacob Rees-Mogg was tipped to give a press conference on the pier. But he denies he'll be throwing any fish overboard. 

For more on Brexit follow Bloomberg on Twitter, Facebook and Instagram
Before it's here, it's on the Bloomberg Terminal.
LEARN MORE