politics
South African Presidency to Probe Governance at Tax Agency
By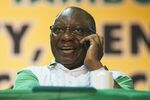 South African President Cyril Ramaphosa will establish a commission of inquiry to probe governance at the country's revenue service after suspending the tax agency's commissioner, Tom Moyane.
The move to bring disciplinary charges against the head of the South African Revenue Services is Ramaphosa's latest salvo in a bid to clean up after his predecessor Jacob Zuma, who was forced from office by the ruling party last month. Ramaphosa has also removed boards of state companies as he seeks to boost investor confidence after years of weak economic growth, marked by increasing corruption and scandals involving Zuma and his family.
"The president has made a commitment to establish a commission of inquiry into governance matters at SARS, which is going to be a wide-ranging inquiry," his spokeswoman Thusela Diko said in an interview on Johannesburg-based state-owned radio station, SAfm. "Those terms of reference are in the process of being finalized."
The decision to suspend Moyane followed a meeting between the tax chief and Ramaphosa during which Moyane refused a request to resign, the Presidency said in a statement. Ramaphosa said in a letter to Moyane that under his leadership there had been a deterioration in public confidence in the agency and that public finances had been "compromised."
Before it's here, it's on the Bloomberg Terminal.
LEARN MORE