business
Your Evening Briefing
Here are today's top stories
By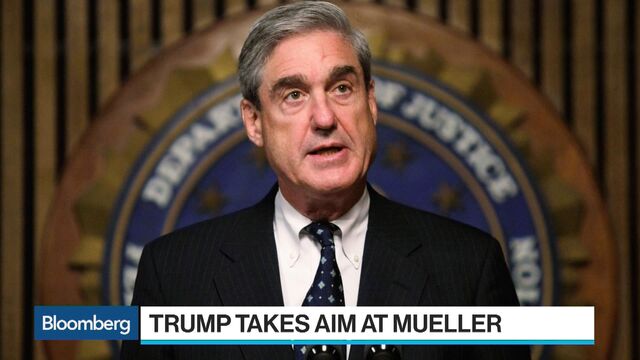 Want to receive this post in your inbox every afternoon? Sign up here.
President Donald Trump spent the weekend tweeting about the criminal probe by Special Counsel Robert Mueller, calling out the former FBI director by name and renewing fears he's preparing to fire him. (Trump did take a break from tweeting to call for executing drug dealers.) Meanwhile, a new study found that 12 percent of U.S. drivers are addicted to their phones and a grim, driverless milestone was reached: An autonomous car fatally struck a pedestrian. —Josh Petri
Here's what Michael Flynn could tell the Russia investigators. The former national security adviser mingled business with government. That could help Mueller look for similar overlaps among Trump insiders.
Apple is secretly designing and producing its own device displays for the first time. It's a significant investment in the development of next-generation MicroLED screens, which are far more difficult to produce than current OLED displays. 
Eight months after Elon Musk handed over the first sets of keys to Tesla's Model 3 sedans, the reviews are coming in. Here's what drivers love and hate about the pivotal car.
As European discounters expand and Amazon moves in, supermarket bankruptcies are beginning to pile up. It's a bleak outlook for a sector that was supposed to be rebounding.
A self-driving car from Uber Technologies hit and killed a woman in Tempe, Arizona on Sunday evening, in what's likely to be the first pedestrian fatality involving a driverless vehicle.
Fear that Facebook's latest black eye will touch off a regulatory avalanche sent the tech-heavy Nasdaq indexes to the steepest losses in six weeks. The social media giant tumbled the most since 2015 after reports that a political advertising firm retained information on millions of users without their consent.
As storms get bigger, building codes are getting weaker. Across the U.S., fierce lobbying from home builders and rising anti-regulatory sentiment among state officials are combining to weaken building codes. The trend leaves residents more vulnerable to climate change and the government struggling to cope with record disaster costs.

Before it's here, it's on the Bloomberg Terminal.
LEARN MORE