markets
Saudis Narrow Rate Gap With Libor to Boost Riyal's Appeal
By and
Three-month Saibor rises 16 basis points this week to 2.18%

ADCB doesn't see SAMA boosting rates this week on Fed increase
Saudi Arabia's decision last week to raise interest rates appears to be having the desired effect, according to economists.
The kingdom's monetary authority, known as SAMA, unexpectedly raised both its repurchase and reverse repurchase rates on Thursday in a move that may have anticipated a probable hike by the U.S. Federal Reserve this Wednesday. The increase has since narrowed the difference between a key Saudi interbank rate for riyals and the equivalent London rate for dollars, making it less attractive for depositors to shift into U.S. currency.
"The current move by SAMA is likely to have been driven by a need to ensure the appeal of the Saudi riyal in an environment of generally tightening monetary conditions in the developed world," said Anita Yadav, the head of fixed-income research at Emirates NBD PJSC, the United Arab Emirates' second-biggest bank.
Read More: Saudis Raise Key Rate in First Move Since 2009 Ahead of Fed
The three-month interbank rate has climbed 16 basis points this week to 2.18 percent, curbing its discount to Libor to about four basis points. Saudi Arabia typically follows U.S. monetary policy because its currency is pegged to the dollar. While the reverse repo rate has been raised over the past two years in step with U.S. rate changes, it's the first time the kingdom has changed the repo rate since 2009.
Historically, Saibor has been higher than Libor -- by more than 150 basis points as recently as 2016. That changed this year amid ample liquidity in the banking system and relatively slow credit growth. On Friday, Saibor was 19 basis points below its U.S. dollar equivalent, the biggest gap in a decade.
Read More: Why It Matters That the Libor-OIS Spread Is Widening: QuickTake
The risk of allowing the discount to widen is that it could lead to capital outflows or a shift in deposits to dollars from Saudi riyals, Monica Malik, the chief economist at Abu Dhabi Commercial Bank, wrote in a report on March 16. While SAMA is unlikely to boost borrowing costs this week, it may raise its benchmark rates two more times in 2018, according to Malik.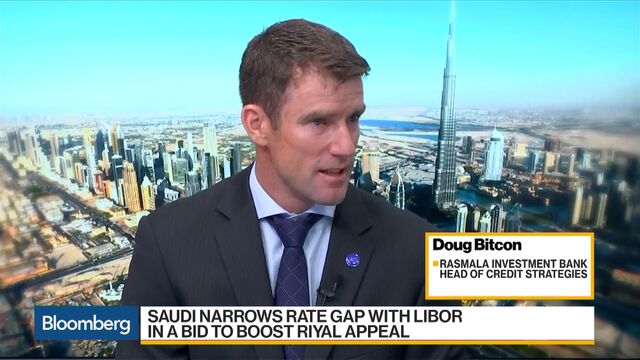 Saibor has risen 28 basis points so far this year, compared with a 53 basis-point advance in Libor.
"The central bank could eliminate the remaining gap by selling government bonds in the open market to fine-tune Saibor within the interest rate corridor," said Ziad Daoud, the chief Middle East economist for Bloomberg Economics.
Before it's here, it's on the Bloomberg Terminal.
LEARN MORE