politics
Putin Marches On Toward Showdown With West
By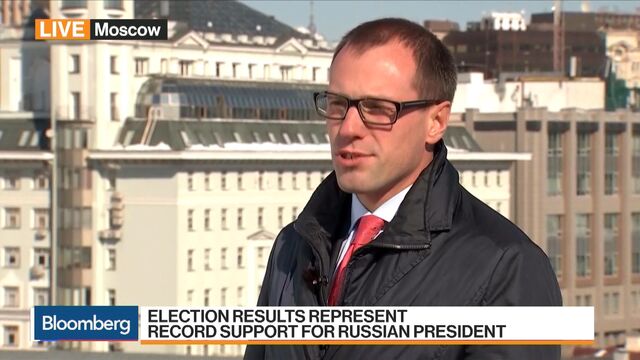 Want to receive this post in your inbox every morning? Sign up for the Balance of Power newsletter, and follow Bloomberg Politics on Twitter and Facebook for more.
Vladimir Putin's landslide victory in Russia's presidential election yesterday, while hardly a surprise, presages escalating tensions with the West amid the confrontation over a nerve-agent poisoning.
The U.K.'s rallying international support for action against Russia after directly blaming Putin for the attack on former double-agent Sergei Skripal and his daughter. Foreign Secretary Boris Johnson is meeting European Union counterparts in Brussels today, after Russia expelled 23 British diplomats on Saturday in a tit-for-tat retaliation against the U.K.
The attack shows Russia's waging "modern war" on the West, which must "wake up" to defend itself, according to Manfred Weber, who leads the European People's Party in the European Parliament and is an ally of German Chancellor Angela Merkel. EU and NATO members are having "intense discussions" on possible political and economic sanctions, a senior Polish official says.
Putin called the allegations of Russian involvement "complete nonsense" after he won a record 77 percent in an election marred by opposition allegations of vote-rigging. Ella Pamfilova, Russia's central election commission chief, sarcastically thanked the West for helping to boost turnout with the confrontation.
"Our people always unite at difficult times," she said. "We never weaken when there is such pressure."

Global Headlines
Mueller showdown | President Donald Trump's attacks on Robert Mueller this weekend signaled he may be preparing to end the special counsel's investigation into alleged Russian meddling in the U.S. election and possible Trump campaign collusion. The few Republicans who commented on Trump's accusations of political bias warned against such a move, without saying what they'd do if he acts.
Facebook data breach | Chief Executive Officer Mark Zuckerberg is under intensifying pressure to appear before U.S. lawmakers after reports that Cambridge Analytica, the advertising-data firm that helped Trump win the presidency, retained information on tens of millions of Facebook users without their consent. "It's clear these platforms can't police themselves," Senator Amy Klobuchar, a Minnesota Democrat, said Saturday on Twitter.
Erdogan's Syria drive | Turks backed by Syrian opposition forces marched into the border town of Afrin virtually unopposed this weekend, pushing Kurdish fighters out. Click here to read why Middle East neighbors worry President Recep Tayyip Erdogan may be eyeing his own empire and how an Ottoman sultan who raged at the West is becoming a hero as elections loom.
Alarm bells in Tokyo | Prime Minister Shinzo Abe apologized in Japan's parliament as a spiraling scandal involving a discounted sale of government land showed new signs of threatening his future when the ruling party leadership comes up for a vote in September. Abe's support plunged in a round of polls over the weekend — to the lowest level ever in two surveys — as respondents put responsibility for the scandal at the prime minister's doorstep.
Zuma on trial | A decision by South African prosecutors to pursue graft charges against former President Jacob Zuma carries grave risks for the ruling party, which backed him for almost a decade before forcing him to quit last month. A drawn-out trial will raise questions about why the African National Congress and parliament failed to take action against Zuma and threatens to further divide the party before elections next year.
What to watch today:
Saudi Arabian Crown Prince Mohammed bin Salman arrives in Washington on a grand tour of the U.S. seeking to burnish his credentials as a decisive reformer to do business with. He'll meet Trump tomorrow.
It's crunch week for businesses wanting to know the rules they'll be operating under after Britain leaves the EU just a year from now. Brexit Secretary David Davis and chief EU negotiator Michel Barnier meet in Brussels today, and a news conference is set for midday.
And finally… The reluctance of British Labour leader Jeremy Corbyn to blame the Kremlin for the nerve-agent attack on a Russian double agent has outraged some of his party's lawmakers. His fans insist he's the victim of a witch-hunt, simply for urging caution. Their main piece of evidence is the BBC's Newsnight show: Over the weekend they set Twitter alight with claims the program had altered a picture of Corbyn's hat to make it look "more Russian."

— With assistance by Robert Hutton
Before it's here, it's on the Bloomberg Terminal.
LEARN MORE