politics
Orban's Ominous Threat Pushes Hungary Opposition to Start Talks
By
Hungary's leader vows to 'avenge' opposition attacks

Orban is the favorite to win April 8 parliamentary elections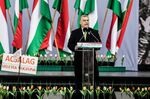 Hungary's fragmented opposition started talks to coordinate strategy before April elections after Prime Minister Viktor Orban said he would retaliate against them if he wins a third consecutive term as expected.
Negotiations on Sunday by the centrist Lehet Mas a Politika, or LMP, and the left-wing Socialist Party and the Demokratikus Koalicio ended without their agreeing to field single candidates in battleground electoral districts against Orban's Fidesz party. LMP will meet the most popular opposition force, the right-wing Jobbik, as Orban's rivals try to create a united front against the pro-Russian euroskeptic, who European Union officials have accused of undermining the rule of law and backsliding on democracy.
Supporting joint candidates is widely seen as the only way opposition parties can counter the supremacy of Fidesz, which overhauled the constitution and made sweeping changes to institutions including courts and the central bank after winning supermajorities in 2010 and 2014. Orban vowed last week to "avenge" opposition attacks "ethically, politically and legally" after the vote, drawing condemnation from across the political spectrum. Still, the disparate positions of his rivals will make it hard for them to unite.
"Right now, opposition parties are positioning themselves for a blame-game on why an opposition alliance won't happen," said Andras Biro-Nagy, a political analyst at Policy Solutions in Budapest. "But threatening the opposition may still hurt Orban if it mobilizes voters opposed to him."
Divided Opposition
Jobbik President Gabor Vona said that Orban's March 15 pledge to more than a 100,000 of his followers in Budapest was similar to a threat by one of Hungary's last Hungarian communist-era strongmen in 1988. Socialist leader Gergely Karacsony compared it with comments from the presidents of Russia and Turkey, two countries on which Orban has modeled his centralization of power. LMP leader Bernadett Szel said opposition parties will face persecution if Orban is re-elected.
Orban, 54, has brushed aside EU criticism to build a self-styled illiberal state, with few effective checks on his power, a public media the government uses to propagate its views and attack its opponents, as well as a new class of politically-connected oligarchs holding increasing sway over the economy.
The opposition parties are united in their campaigns accusing the government of corruption and intimidation, allegations the prime minister has denied. Still, Jobbik has ruled out cooperation with the Socialists and DK, while the LMP has conditioned its support on an agreement between Jobbik and the Socialists.
Orban has held steady in popularity by ratcheting up his anti-immigrant message. Fidesz increased its backing among decided voters to 49 percent from 48 percent in February, according to an opinion survey published by the pollster Publicus.
Before it's here, it's on the Bloomberg Terminal.
LEARN MORE