markets
Newell Teams Up With Icahn to Counter Starboard's Opposition
By and
Company's shares drop after announcing pact with billionaire

Icahn holds 6.9 percent stake and will back turnaround plan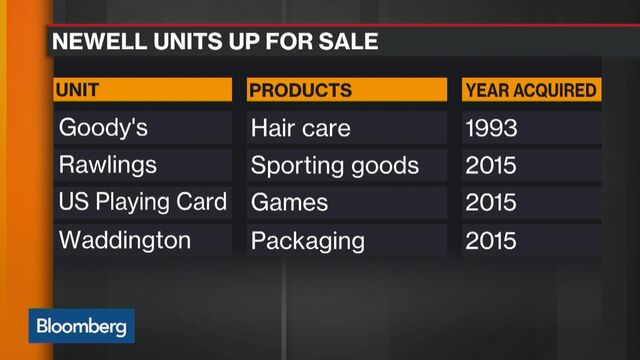 Newell Brands Inc. has enlisted the support of billionaire Carl Icahn and will go forward with its planned sale of assets -- a move that may help it fend off opposition from activist investor Starboard Value.
Newell said Monday it had agreed to immediately name four Icahn designees to its board, one of whom will serve as chairman. Meanwhile, the company will expand its efforts to streamline operations -- a plan that Starboard has attempted to halt.
Icahn said the Hoboken, New Jersey-based maker of Rubbermaid kitchenwares and Mr. Coffee appliances is "significantly undervalued."

"This company has a great stable of brands, and I believe a streamlined consumer-facing portfolio will help the company focus on the most important businesses and reignite the performance in their core businesses," Icahn said in the statement.
The announcement didn't sit well with investors, who sent shares down as much as 6.5 percent to $26.79, a sign many may have preferred a bigger shake-up at Newell. The company's stock had already lost more than 40 percent of its value in the 12 months through the end of last week.
"The agreement with Icahn lends credibility to management's plan," Wells Fargo & Co. analyst Bonnie Herzog said in a research note. It also increases the odds that Newell will prevail in its proxy fight with Starboard, she said
Weekend Meeting
Newell Chief Executive Officer Mike Polk first became aware Icahn's interest in the company shortly after Starboard began its proxy fight, according to people familiar with the matter. The CEO reached out to Icahn by phone in February and offered to work with him, they said, asking to not to be named because the discussions were private.
On March 16, Icahn disclosed his 6.9 percent stake in the company, which makes him its third largest holder, and opened the door for negotiations. Icahn's group met with Newell executives over the weekend and hammered out an agreement Sunday night, they said.
The agreement follows a fight initiated last month by Starboard, the activist fund run by Jeff Smith, to replace the entire board. The New York-based hedge fund has urged the company to halt plans to sell some brands until shareholders have a chance to vote on Starboard's slate of directors.
Board Changes
Five board members have stepped down this year and Starboard has partnered with former executives of Jarden Corp., which was bought by Newell two years ago. One of the directors, Kevin Conroy, said he stepped down because the company need change and said he supported Starboard's efforts at the company.
Representatives for Icahn and Starboard didn't immediately respond to requests for comment. 
Newell said in January that it planned to retreat from a debt-fueled acquisition spree and sell brands that account for about half of its customer base. Some of the properties were considered key to the company's future just a few years ago. Starboard's Smith argues the company's turnaround plans were a "hastily designed action to deflect blame from the recent poor performance."
Simplify Operations
There are additional opportunities to sell brands that will bring the total yield of the overhaul to about $10 billion of after-tax proceeds, Newell said Monday. The company reiterated that it seeks to simplify operations and improve financial flexibility to free up cash for investment in e-commerce, product innovation and international expansion.
Newell agreed to immediately appoint Patrick Campbell, Brett Icahn, Andrew Langham and Courtney Mather to the board. Campbell, who was previously an executive at 3M Co. and General Motors Co., will serve as chairman.
Last month, the company nominated James Craigie and Debra Crew to the board as independent members, and it will nominate Judith Sprieser to join at its shareholder meeting.
With the changes, "Newell Brands's board will comprise 11 highly qualified and experienced directors, 10 of whom will be independent and all of whom will be seasoned leaders," the company said.
Goldman Sachs Group Inc. and Deutsche Bank AG are advising Newell, and Jones Day is legal counsel.
Before it's here, it's on the Bloomberg Terminal.
LEARN MORE