business
New York Faces Another Slushy Round of Snow
By
System comes after three others have pounded the East Coast

'I don't recall a month with four nor'easters': meteorologist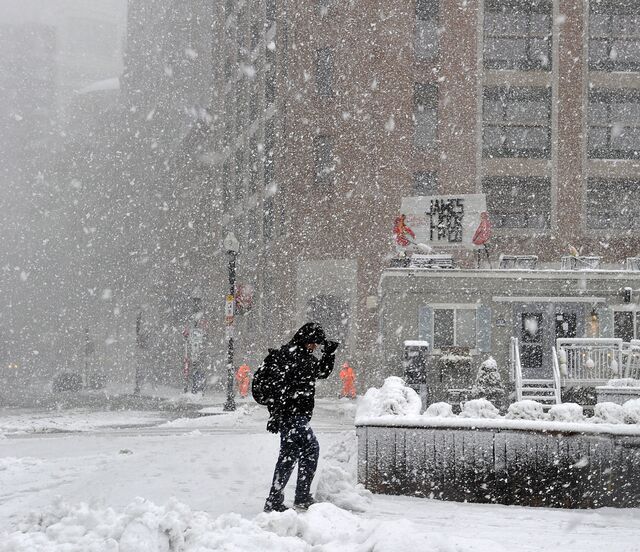 The East Coast could get its fourth nor'easter in three weeks just in time for the start of spring.
New York, Washington and Boston could all get a sloppy 4 inches (10 centimeters) of snow starting late Tuesday into Wednesday, according to the National Weather Service.
"It will be that slushy wet snow," said Carlie Buccola, a National Weather Service meteorologist.
The storm -- which on Sunday forecasters had expected to miss the East Coast -- would be the fourth this month to batter the region. For now, meteorologists don't expect it to be as severe as the others, which at peak left more than 2 million people without power, grounded more than 9,100 flights, flooded coastal communities and caused an estimated $1 billion in losses.
Double Whammy
The impending nor'easter will come together in two parts, said Marc Chenard, a National Weather Service meteorologist. The first will bring mainly rain to Washington and the mid-Atlantic Monday before moving out into the ocean. Once at sea, forecasters expect the storm to gather strength, then return to land and roll up the coast -- dumping as much as 4 inches of snow from Washington to Boston.
The arrival of spring Tuesday could mitigate the effects. As the sun climbs higher in the sky, snow is apt to melt faster.
"It would have to come down hard to accumulate at this time of year," Chenard said.
As usual, Boston could get the worst of it. The city's position at the end of the storm's track means that some snow will fall after sunset Wednesday, increasing the odds of it sticking. There's a chance Boston could get as much as 6 inches, said Rob Carolan, owner of Hometown Forecast Services Inc., in Nashua, New Hampshire.
"I don't recall a month with four nor'easters,'' Carolan said.
Before it's here, it's on the Bloomberg Terminal.
LEARN MORE