business
Kroger's Fred Meyer Stores Announce Plan to Abandon Gun Business
By and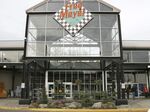 Kroger Co. is taking the final step out of the gun business.
The supermarket giant's general-merchandise chain, Fred Meyer, plans to "responsibly phase out sales of firearms and ammunition," Kroger said in a statement Monday. Kroger operates about 130 Fred Meyer stores in four northwestern states.
The move is the latest action on firearms by Fred Meyer in the aftermath of the deadly school shooting last month in Florida. The chain earlier in March joined Walmart Inc. and Dick's Sporting Goods Inc. in tightening gun restrictions, and last week Fred Meyer said it would stop selling publications focused on assault rifles.
Kroger said it made the decision to exit the firearms business, which generates about $7 million in revenue, after "evaluating changing customer preferences."
"There have already been efforts to steadily reduce this category in Fred Meyer stores over the last several years due to softening consumer demand," the company said.
When it stopped selling assault rifles in 2015, Walmart also blamed declining sales. Firearms sales have fallen since the 2016 election, as buying dissipated under a conservative president and Congress, who are viewed as unlikely to pass gun-control legislation.
Before it's here, it's on the Bloomberg Terminal.
LEARN MORE