markets
Here Come More Bearish 'Death Cross' Signals on European Stocks
By
DAX, SMI, Stoxx 600 join Euro Stoxx 50, FTSE 100 with signal

Cross shows momentum for European equities is fading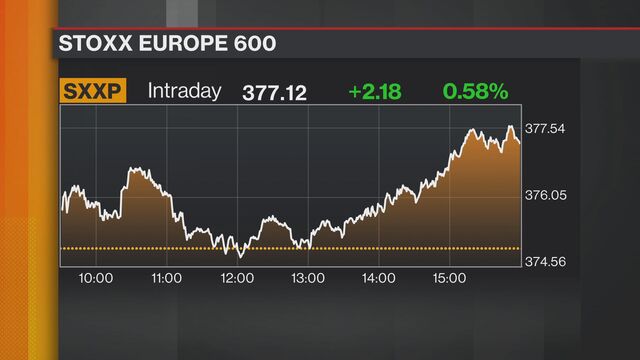 First it was the euro-area's benchmark Euro Stoxx 50 in late February. Then the U.K.'s FTSE 100 last week. And now Germany's DAX, Switzerland's SMI, and Europe's main gauge Stoxx Europe 600.
Technical charts for these major European equity indexes show a bearish signal known as a "death cross," which signals fading momentum in the region's equities that have struggled to recover after their correction in February and are again falling behind Wall Street.

A death cross is triggered when an index's 50-day moving average falls below the 200-day average, a sign of quick deterioration in the short-term momentum. Among Europe's main stock indexes, only Amsterdam's AEX and Milan's FTSE MIB have been resistant so far.
By contrast, the S&P 500's 50-day moving average still trades about 7 percent above its 200-day moving average, and about 9 percent for the Nasdaq 100.
But don't dump European stocks just yet, JPMorgan strategists Mislav Matejka and Emmanuel Cau said.
"We think one should revisit the euro-zone vs U.S. relative value trade," they wrote in a note on Monday. "Overall, we think the relative tailwinds of earnings and U.S. dollar might be stalling for the U.S. Tech is the wild card, but it is starting to get quite pricey."
Before it's here, it's on the Bloomberg Terminal.
LEARN MORE