technology
Friendly PBOC Face, New Antigraft Risks: NPC Investor Takeaways
Bloomberg News
Stability seen as most important to newly empowered Xi

New roles for Xi allies may make regulation more effective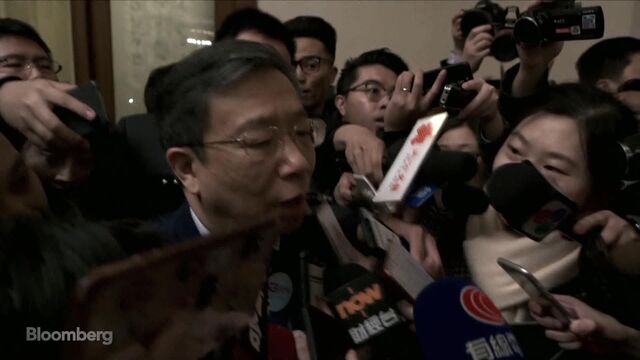 China is wrapping up an annual meeting of its national legislature with the biggest overhaul to the central government in two decades. So what should investors take away from the two weeks of deliberations and announcements?
The clearest message is that President Xi Jinping has increased his grip on all aspects of power -- in turn raising the stakes for him of any turmoil that results from policies his team implements. The result is likely to be a measured pace of financial de-risking, rather than a rapid tightening that sends borrowing costs climbing and sets off a chain of defaults, China watchers say. Individual companies remain at risk for falling afoul of regulators' wishes -- not least thanks to a newly empowered national anti-graft agency.
"Capital 's' stability -- that is what reigns supreme under Xi Jinping right now," Jude Blanchette, senior adviser and China practice lead at the Crumpton Group, a Washington-based advisory firm, told Bloomberg Television.

The following are some key points from the March 4-20 National People's Congress, which concludes before a news conference with Premier Li Keqiang Tuesday:
The Org Chart
Xi significantly strengthened his grip on power, not only removing limits on how many presidential terms he can serve, but putting associates in positions including the vice presidency and a vice premiership.
The number of financial regulators was reduced, with the central bank now in charge of writing rules for banking and insurance, amid an overall reduction in ministries that was the biggest consolidation since the late 1990s.
What it means: a streamlined regulatory structure with more Xi allies running the show suggests more effective implementation of the three main policy initiatives -- reducing financial risk, pollution and poverty.
Read more:
These Are the Men (and One Woman) Filling China's Top Posts 
China's Xi Caps Power Push Securing New Term, Key Ally as No. 2
It's All Xi, All the Time in China as Party Influence Expands
Economic Targets
Growth is targeted at about 6.5 percent this year, while policy makers dropped a desire to hit a faster pace if possible.
The budget deficit target was lowered to 2.6 percent of gross domestic product, from 3 percent.
What it means: with a slightly more disciplined growth target, and a slightly tighter fiscal goal, public-sector investment spending should rise at a slower pace, helping the overall GDP expansion rate to ease down from last year's 6.9%.
Read More:
China Turns Fiscal Screws While Targeting GDP Growth Around 6.5%
Equity Winners and Losers From China's Big Political Meeting 
How the Global Metals Market Could Defy a Slowdown in China
The Central Bank
People's Bank of China Governor Zhou Xiaochuan, a prominent reformer who repeatedly called for opening the country's financial markets up to the world, is retiring, with one of his deputies, Yi Gang, taking the helm.
Yi will oversee a PBOC that has expanded powers, though Xi ally Liu He, as a vice premier and Communist Party Politburo member, could have an influential oversight role in overall monetary policy.
What it means: Yi is "probably the best-suited candidate to communicate" PBOC intentions to markets, says Chen Long at Gavekal Dragonomics. With repeated government calls for credit to support the real economy, Yi will likely ensure sufficient liquidity even as leverage in the financial system is reduced, Barclays Plc says.
Read more:
A U.S.-Trained Technocrat, Not a Powerbroker, Will Lead the PBOC
China's New Monetary Chief Says He'll Keep to Zhou's Reform Path
China Central Bank Gains More Power in Xi's Regulatory Shift
A New Watchdog
The National Supervision Commission was created, to be led by a Politburo member -- Yang Xiaodu. The new body comes out of China's feared Central Commission for Discipline Inspection, the Communist Party's top graft-busting agency, which purged more than 1.5 million members under Xi's anti-corruption drive.
The NSC will have a presence across China's provinces, and expand the anti-graft campaign to police millions of public servants, academics, journalists and state company managers, beyond just party officials.
What it means: foreign companies could be at greater risk of compliance violations, after high-profile cases involving GlaxoSmithKline Plc and Rio Tinto Group over the last several years. "In the past, a lot of the multinational companies saw themselves as out of reach of the CCDI," said Shaun Z. Wu, a Shanghai-based regulatory-defense lawyer at Kobre & Kim. That's about to change, as "the new NSC has far-reaching and far-ranging power over all government administrators and officials."
Read more:
China's Xi Readies Sweeping Government Overhaul to Empower Party
Xi Jinping Has Got the Power. So How Will He Use It?: QuickTake
Xi's Warning to Investors: Any Chinese Billionaire May Fall
What's Next?
Premier Li holds a news conference Tuesday after the official closing of the NPC. Aside from summing up announced initiatives, investors may focus on any comments on how China will respond to moves by U.S. President Donald Trump to curb Chinese exports.
While China has repeatedly signaled it's ready to respond to any U.S. protectionism, what may give investors some encouragement is the potential influence of newly installed vice president Wang Qishan. Wang has years of experience at international dialog, having led strategic and economic talks with the U.S. in a previous role.
Also key will be how officials deal with indebted state-owned enterprises. At the end of the day, incentives for them to rein in borrowing and spending haven't fundamentally changed. Clifford Tan, East Asian head of global market research at Bank of Tokyo-Mitsubishi UFJ, says "if China perennially faces SOEs with way-too-low a cost of capital, why should they behave differently no matter how the government is organized?"
— With assistance by Chris Anstey
Before it's here, it's on the Bloomberg Terminal.
LEARN MORE