markets
Five Things You Need to Know to Start Your Day
Get caught up.
By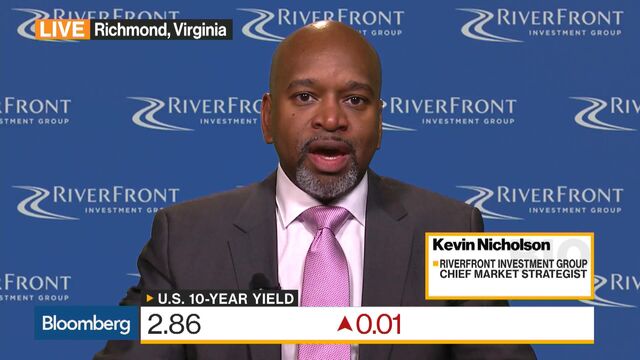 Want to receive this post in your inbox every morning? Sign up here
Tech takes center-stage, with U.S. stocks in the sector tanking amid production reports on Apple and trouble brewing for Facebook. Meanwhile, companies from Walmart to Amazon are warning U.S. President Donald Trump against any sweeping trade action against China. Here are some of the things people in markets are talking about.
Tech Leads U.S. Stocks Lower
Stocks declined globally on Monday as a technology selloff sent the Nasdaq indexes to the steepest losses in six weeks, though the Nasdaq-100's 50-day moving average offered some support. Government bonds erased losses, while the pound jumped on a Brexit breakthrough. Tech companies were roiled by reports of a Facebook data breach and Apple efforts to develop its own screens. There's also growing angst in the credit markets. 
Apple's Secret Manufacturing Facility
Apple is designing and producing its own device displays for the first time, using a secret manufacturing facility near its California headquarters to make small numbers of the screens for testing purposes, according to people familiar with the situation. The technology giant is making a significant investment in the development of next-generation MicroLED screens, say the people, who requested anonymity to discuss internal planning. Asian suppliers for Apple fell on the news. The development also puts Apple's $3.4 billion a year relationship with Samsung Electronics at risk. The rival phone-maker was Apple's fourth biggest supplier in 2017.
Coalition of the Coerced?
The Trump administration is pressing countries to ally with the U.S. in pushing back against Chinese trade policies in exchange for relief from American tariffs on steel and aluminum, according to a European official. U.S. Trade Representative Robert Lighthizer has been leading negotiations under which countries may be excluded from the tariffs of 25 percent on imported steel and 10 percent on aluminum. American trading partners and U.S. companies are pressing for exemptions and exclusions from the tariffs, which take effect on Friday. In talks with the U.S., Lighthizer has laid out five conditions that countries must address before being excluded. They are: Limiting steel and aluminum exports to the U.S. to 2017 levels; actively addressing China's various trade-distorting policies; being more assertive and cooperative with the U.S. at the G-20 Global Steel Forum; cooperating with the U.S. in launching cases against Chinese practices at the WTO; and enhancing security cooperation with the U.S.
A Warning for Trump
U.S. companies from Walmart Inc. to Amazon.com Inc. are warning President Donald Trump that any sweeping trade action against China could raise consumer prices, increase costs for businesses and hurt stock prices. Broad-based tariffs on Chinese goods would "trigger a chain reaction of negative consequences for the U.S. economy," a group of more than 40 business groups led by the Information Technology Industry Council said Sunday in a letter to the president. The coalition includes groups representing retailers and makers of everything from toys to wine, while the council represents companies including Amazon, Google, Facebook and Microsoft.
Coming Up...
Asia's traders may be even more focused on China than usual Tuesday. President Xi Jinping takes center stage Tuesday at the closing session of China's National People's Congress, providing him another chance to ram home his vision for the nation now that he has further consolidated his grip on the reins of power. And then Premier Li Keqiang will hold his annual press conference. Europe's day will feature the German ZEW survey, U.K. inflation data, EC consumer confidence and figures from South Africa on the current-account balance and inflation. In the U.S., the FOMC will start its two-day meeting. Meanwhile, Saudi Crown Prince Mohammed bin Salman meets President Donald Trump at the White House.
What we've been reading
This is what caught our eye over the last 24 hours.
— With assistance by Garfield Clinton Reynolds, Sarah Ponczek, Mark Gurman, Andrew Mayeda, and Nikos Chrysoloras
Before it's here, it's on the Bloomberg Terminal.
LEARN MORE