technology
Here's What Wall Street Analysts Are Saying About Facebook's Data Scandal
By
Analysts say share decline could be a buying opportunity

Information on 50 million users was kept by political-ad firm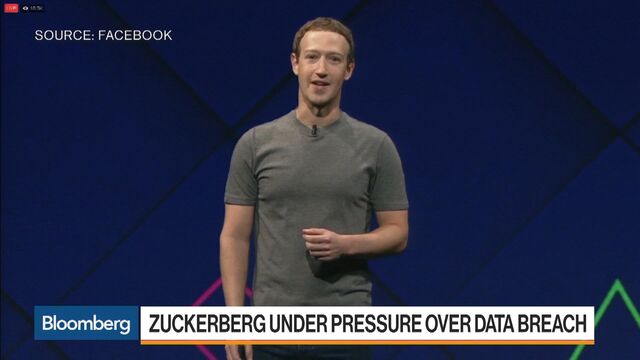 Investors are punishing Facebook Inc. following the disclosure that a political-advertising firm held onto personal data for millions of the social media giant's users without their permission. Wall Street analysts say it's a good chance to buy.
Facebook dropped as much as 8.1 percent on Monday, its biggest intraday loss in two and a half years, after reports said Cambridge Analytica, a firm that worked for Donald Trump in the 2016 presidential election, improperly obtained and then retained data from 50 million Americans even after Facebook asked it to delete the information. Despite all the political noise, it's hard to see potential regulation seriously damaging the company's dominance in online advertising, several analysts said.
"This is more 'headline risk' at this point and does not overly concern us," Daniel Ives, head of technology research at GBH Insights, said in a note to clients. Ives maintained his buy rating on Facebook shares, saying any stock weakness related to "regulatory and political headline risk" could be an opportunity.
The Cambridge Analytica breach, first reported by the New York Times and the Guardian's Observer newspaper, is the latest in a procession of controversies for the internet giant. Chief Executive Officer Mark Zuckerberg has pledged to "fix" the platform after revelations last year that Russian agents used it to try to influence the 2016 presidential election. There's also a growing backlash among pundits and journalists suggesting Facebook divides people rather than accomplishing its original mission of bringing the world together. Politicians in the U.K. and U.S. have called for enhanced regulations and transparency, especially when it comes to political ads on the site.
The core value of Facebook is the trove of highly specific information it has on each of its users, which number 1.37 billion worldwide. It's possible the site will become a less appealing place for advertisers if politicians enact strict rules on how that data can be used, Debra Aho Williamson, principal analyst at research firm EMarketer, said in an email.
"This specific incident is not likely to cause advertisers to leave Facebook, but it will cause them to think twice about how data about Facebook's users is handled," Aho Williamson said. "If Facebook were forced to change the way it uses data or the way its ad products work, then advertisers may become less enamored with it."
Still, when it comes to digital advertising, Facebook and Alphabet Inc.'s Google have a lock on the market. Together, the two companies accounted for 58.5 percent of the U.S. market in 2017, according to EMarketer. That means advertisers have little choice but to spend on Facebook if they want to get their message out to the widest audience online.
"Facebook and Google still very much enjoy an advertising duopoly, and although engagement is arguably at risk, there are no real alternatives of scale," James Cakmak, an analyst at Monness Crespi Hardt and Co., wrote in a note. "This is an unintended, yet unavoidable, byproduct of operating a platform with 30 percent of the global population."
— With assistance by Sarah Frier
Before it's here, it's on the Bloomberg Terminal.
LEARN MORE