Dior Picks Former Vuitton Designer Kim Jones as Menswear Chief
By and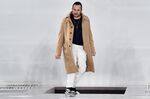 Christian Dior Couture named former Louis Vuitton designer Kim Jones to oversee its menswear range, turning to an artistic director known for mixing high-fashion and streetwear influences to try to reclaim its former trendsetting position.
Jones in January left his post as chief men's designer at Vuitton -- which, like Dior, is owned by Paris-based LVMH. He succeeds Kris Van Assche, whose departure after 11 years as Dior's creative head was announced earlier on Monday.
The shift comes amid a broader creative reshuffling in the industry, with Burberry Group Plc appointing Riccardo Tisci as its creative chief in February and former Dior menswear designer Hedi Slimane joining another LVMH brand, Celine. Under Slimane, Dior Homme set the menswear agenda with skinny jeans and suits, but since his 2007 departure it has lost that edge to rivals like Kering's Gucci and Balenciaga.
Jones, who graduated from London's Central Saint Martins art school, is one of the most prominent British designers in French fashion. His playful riffs on Louis Vuitton's logo and skillful use of social media raised the profile of Louis Vuitton's menswear business.
The appointment is the first big move by Pietro Beccari since he became chief executive officer of Christian Dior this year. The former head of LVMH's Fendi, he succeeded Sidney Toledano, who led Dior for nearly 20 years.
Before it's here, it's on the Bloomberg Terminal.
LEARN MORE