Cambridge Analytica CEO Offered to Ensnare Politicians: Report
By
Data firm accused of harvesting Facebook Inc. user profiles

Political data company boasted use of sex workers and ex-spies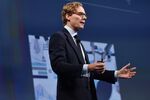 The data firm accused of harvesting Facebook Inc. user profiles was captured in secret footage bragging about how it could use prostitutes and former spies to ensnare politicians and influence elections.
In a four-month-long sting operation, Channel 4 News filmed Cambridge Analytica executives talking about their illicit tactics to sway campaigns, including the 2016 U.S. presidential election and the Brexit referendum.
In one exchange, Chief Executive Officer Alexander Nix said they could "send some girls around to the candidate's house", adding that Ukrainian girls "are very beautiful, I find that works very well," according to the video.
Nix's pitch to the undercover reporters posing as clients included saying "we're used to operating through different vehicles, in the shadows" and the hope they would have a "long-term and secretive relationship."
In an interview with the BBC's Newsnight, Nix said: "A lot of the allegations that have been put to Cambridge are entirely unfounded and extremely unfair." Cambridge Analytica said in a statement that it "strongly denied the claims" that it misused Facebook data.
Clamping Down
The U.K. data regulator is in the process of obtaining a warrant to search the offices and obtain data and servers from Cambridge Analytica, Elizabeth Denham, Britain's current privacy chief told Channel 4.
Facebook said it has hired digital forensics firm Stroz Friedberg to conduct a "comprehensive audit," and Cambridge Analytica will provide "complete access to their servers and systems."
U.K. politicians piled on the pressure on Facebook. The social network must end its days of "move fast and break things," U.K. Culture Secretary Matt Hancock told lawmakers in the wake of reports that Cambridge Analytica kept information on millions of the social network's users without their consent.
In a series of angry comments to parliament about Facebook and its relationship with Cambridge Analytica, Hancock said the company was going to have to improve its behavior.
Hancock said that the "Wild West" days of "digital companies who flout rules and think that the best thing to do is to move fast and break things without respect for the impact that has on democracy and on society" were over.
To cheers of support from across the chamber, Hancock also attacked the company for blocking whistleblower Christopher Wylie from its site. "I thought it was outrageous," the Culture Secretary said. "We know in this house they don't act fast enough to block other accounts of obviously outrageous behavior. It shows us that when they need to, they can block incredibly quickly."
Quotes from this Article
Before it's here, it's on the Bloomberg Terminal.
LEARN MORE