Putin Claims Mandate in Record Win Amid Conflict With West
By , , , and
Putin gets 77% in presidential election with high turnout

Tensions with West spurred Russians to vote, poll chief says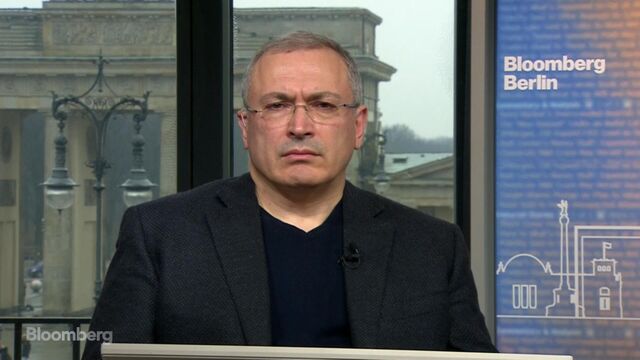 Russian President Vladimir Putin won a landslide victory in a tightly controlled election and claimed a renewed mandate for his escalating confrontation with the West.
With almost all ballots counted, the Kremlin's longest-serving leader since Soviet dictator Joseph Stalin gained a record 77 percent support, handing him a new six-year term. Putin, 65, barely campaigned before Sunday's vote, which was marred by opposition allegations of fraud, and faced no real competition in a contest that even some of his seven rival candidates described as a farce.
"Together, we'll take on a great task in the name of Russia," Putin said as he thanked flag-waving supporters at a rally near Moscow's Red Square late Sunday. The result reflected voters' "assessment of the work of recent years and the hope they've clearly shown," he told reporters later.

While he rules unchallenged at home even as the economy stagnates after the longest recession in two decades, Putin faces spiraling conflict abroad amid tensions with the U.S. and Europe. The U.K. directly accused him of ordering the nerve-agent poisoning of former spy Sergei Skripal in England earlier this month. Putin has defied U.S. and European Union sanctions over his 2014 annexation of Crimea and diplomatic pressure over Russia's support for Syrian President Bashar al-Assad. His confrontation with the West played well in the campaign with an electorate nostalgic for Russia's superpower status.
'Never Weaken'
The tensions with the West spurred Russians to vote, Central Election Commission head Ella Pamfilova told reporters Monday. Turnout was 67.5 percent, about two percentage points higher than in the 2012 election.
"Our people always unite at difficult times," Pamfilova said. Western leaders "need to know -- we never weaken when there is such pressure," she said.
"A choice without a real competition, as we have seen in this election, unfortunately is not a real choice," Michael Georg Link, joint head of the observer mission from the 57-nation Organization for Security and Cooperation in Europe, told reporters in Moscow on Monday.
Putin should use his new term "to change course, to significantly improve relations with the West," Johann Wadephul, a member of German Chancellor Angela Merkel's CDU/CSU bloc, said in an emailed statement. The Russian leader's waging "modern war" on the West and "new sanctions should not be ruled out," Manfred Weber, a Merkel ally and chairman of European People's Party in the European Parliament, told Germany's Bild newspaper.
Putin, who's also been accused of cyber-attacks and election meddling, including in the U.S. 2016 presidential vote, secured the results despite calls for a boycott from opposition leader Alexey Navalny, who was barred from running.
Official turnout figures in different regions of Russia were inflated, Navalny said on Twitter. There's been "widespread fraud" with many instances of ballot-rigging caught on camera, according to Open Russia, an opposition organization founded by former oil tycoon and Kremlin opponent Mikhail Khodorkovsky.
Election officials said violations were limited and didn't influence the result.
In addition to accusing Putin, the U.K. expelled the largest number of Russian diplomats from London in 30 years over the March 4 poisoning of Skripal and his daughter Yulia. Russia on Saturday ordered out an equal number of British envoys as well as demanding the closing of the British Council cultural office and the U.K. consulate in St. Petersburg.
EU Briefing
U.K. Foreign Secretary Boris Johnson is briefing EU counterparts in Brussels on Monday, after Prime Minister Theresa May said the government will consider this week what further steps to take against Russia.
EU and North Atlantic Treaty Organization states may opt for political or economic sanctions against Russia this week, Michal Dworczyk, head of the Polish prime minister's office, told Radio Zet on Monday.
The U.S., Germany and France have rallied behind the U.K., saying there's "no plausible alternative explanation" to Russian responsibility for the first use of a chemical weapon on European soil since World War II. It's unclear so far if they'll back new measures to isolate Russia, which denies any involvement.
In his most detailed public comments on the case, Putin told reporters Sunday that "it's complete nonsense to imagine that anyone in Russia could resort to such tricks ahead of the presidential elections and World Cup. It's unthinkable."

Putin's ability to confront the West has increased after President Donald Trump's election exposed fault lines between the U.S. and Europe and the U.K.'s vote to leave the EU, said Roderic Lyne, former British ambassador to Russia. "The West at the moment is rather fragmented because of transatlantic tensions and Brexit," he said.
The high turnout is a "double-edged sword," Alfa Bank analysts led by Natalia Orlova said in a research note. "While it provides Putin with a mandate for his internal and external policies, it reduces the incentive for change, particularly in the field of economic policy."
Confrontation ultimately could work against Putin because it'll deprive Russia of investment and know-how needed to lift the economy out of the doldrums, said Oksana Antonenko, visiting senior fellow at the London School of Economic and Political Science. "If Putin wants Russia to build a modern economy, he can't do that in conflict with the West,'' she said.
Even so, Putin will use his next six years to assert his vision of a strong Russia, according to Joerg Forbrig, senior program director of the German Marshall Fund of the U.S. "Putin now has a feeling of success, he feels the West is splintering," he said by phone from Berlin.
Constitutional limits ban Putin from seeking another term in 2024. Asked Sunday if he might consider running in 2030 -- when he would be 77 -- Putin dismissed the question as "funny," saying "Am I going to stay around until I'm 100? No."
— With assistance by Iain Rogers, and James Regan
Before it's here, it's on the Bloomberg Terminal.
LEARN MORE