Snowstorm Looms as Spring Begins in Washington, Mid-Atlantic
By
'Tricky forecast' for latest nor'easter, arriving midweek

For a change, Boston and New England may be spared the worst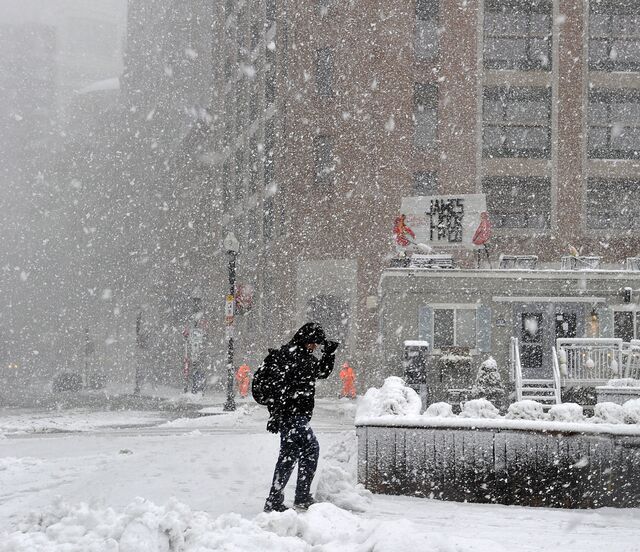 The first day of spring starts Tuesday but the threat of winter weather still looms across the mid-Atlantic region of the U.S., including Washington. The prospects for New England, socked by heavy snows earlier this week, have improved.
Forecasters are watching a low-pressure system that will probably bring snow across the Appalachian Mountains west of the nation's capital Monday into Tuesday. It could bring either a cold rain or snow to Washington, said Bob Oravec, a senior branch forecaster at the U.S. Weather Prediction Center in College Park, Maryland.
"Spring starts on Tuesday, so it's ironic in that sense, though it is not unprecedented," Oravec said. "People hear 'spring' and they don't want to have to think about a cold rain or a wet snow."
March has started with a parade of nor'easters roaring up the East Coast. They've knocked out power to millions, canceled more than 9,100 flights, inundated coastal cities and towns, and dropped snow by the foot from Pennsylvania and New Jersey up to New England. Boston has been battered. While New York has been spared the brunt of the heaviest snow, its surrounding suburbs have seen snowfalls of 20 inches (50 centimeters) and more.
Tricky Forecast
The forecast for Washington, which has received less than an inch of the white stuff in March, is tricky because it could end up on the gradient between rain and snow, Oravec said. When the initial storm gets going, it could be still too warm for snow.
Overall, the capital has just received 3.7 inches of snow this winter, which puts it 11.5 inches below normal, according to National Weather Service data. Any snow that does fall would melt quickly, he said.
Oravec said it is starting to look like Boston and New England will be spared another round of snow.
So far in March, Boston's Logan International Airport has received 21.9 inches of snow, about 5 inches more than normal, the weather service said. More than 14 inches fell last Tuesday.
The timing and track of that second system will determine if Boston and New England get another dollop of snow to push it closer to its snowiest March on record: 38.9 inches in 1993. Oravec said the storm that forms Tuesday into Wednesday looks like it will be too far to the east to give Boston much trouble.
"Areas that have had a lot of heavy snow would be spared," Oravec said.
Before it's here, it's on the Bloomberg Terminal.
LEARN MORE