markets
Traders Beware: Political Black Swan Looms Over Yen, Nikkei
By
Yen seems not to have priced in political risks, analysts say

While policy change unlikely, foreign investors could react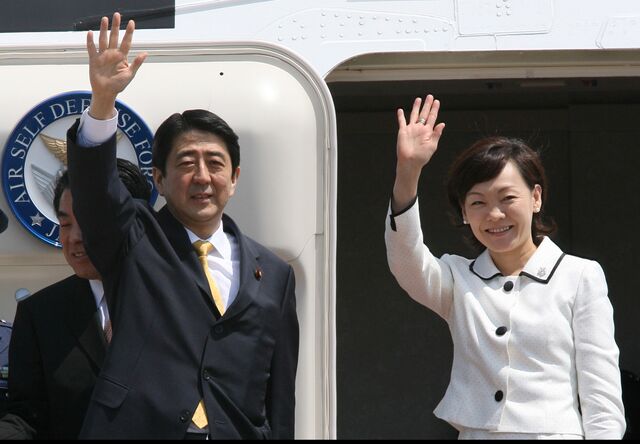 The scandal embroiling Prime Minister Shinzo Abe's administration may be more serious than some investors realize, raising the potential for a rapid move in Japanese markets to discount the potential for a surprise end to the champions of Abenomics.
While Abe has faced down political controversy and public protests repeatedly in his more-than-five-years in power, the doctoring of a Finance Ministry document relating to a controversial land sale presents a more serious threat, according to political analysts. And at this point, markets haven't priced in the idea of a resignation by stalwart Abe supporter Taro Aso, the finance minister, or the potential for Abe to lose office later this year.
"For global investors, Abenomics equals a higher dollar-yen, a higher Nikkei and a better Japanese economy," said Tohru Sasaki, head of Japan markets research at JPMorgan Chase & Co. in Tokyo. "The perception of foreign investors will change drastically" if it looks like Abe will be forced from power, said Sasaki, who previously worked at the Bank of Japan.

Political pressure on the Abe administration is rising -- read about that here.
Weeks of turmoil could result in markets, though the impact would probably be short-lived, Sasaki says -- akin to the brief surges in the yen after Britain's Brexit vote in June 2016 and Donald Trump's election victory in November 2016.
A political overhaul probably won't be a game changer for economic policy and Japan's fundamentals, yen experts say. First off, lawmakers are poised to endorse BOJ Governor Haruhiko Kuroda for another five-year term, and confirm two deputies who have fully backed the reflationary stimulus of the past half-decade.
Second, the Liberal Democratic Party heavyweights who could win an autumn leadership selection would have little incentive to abandon the Abenomics program that's helped drive five national election victories. Corporate profits have soared to records, and the economy sustained its longest expansion since the 1980s, thanks in part to a dramatic weakening in the yen that began when investors began pricing in Abe sweeping to power in 2012.

"The market has apparently assumed Abe will win his third term of LDP presidency in September," Shusuke Yamada, a currency and equity strategist at Bank of America Merrill Lynch in Tokyo, wrote in a note Thursday. "Pricing this out would quite likely lead to lower equities and a stronger yen."
Yamada advised watching this weekend's poll numbers for Abe. A "re-test" of 105 yen per dollar could come if ratings fall sharply, he wrote. The yen approached 105 last week, and hasn't traded past that level since November 2016.
Japan's currency has already been strengthening this year -- up 6.3 percent, bearing the brunt of the dollar's slump on concerns about deepening U.S. borrowing needs, given the American trade and fiscal deficits. That could raise the risk of one-sided moves on any political repricing -- even if fundamental economic policy is unlikely to change.
Markets have mispriced assumptions of policy change based on politics in the past. When an advocate of intervention to drive down the yen lost a leadership selection in 2010, and the yen then surged as traders assumed yen sales were off the table, Japan indeed intervened.
Read here how Japan intervened to counter political perceptions in markets in 2010.
— With assistance by Andy Sharp, and James Mayger
(
Adds trading level reference in second paragraph after second chart.
)
Before it's here, it's on the Bloomberg Terminal.
LEARN MORE