markets
Starwood Said in Talks to Build New District in London's Docks
By and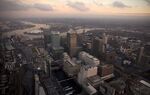 Starwood Capital Group LLC and LendLease Group are in exclusive talks to buy out the development rights for a 62-acre (25-hectare) district in east London's Royal Docks, people with knowledge of the plan said.
The venture is close to finalizing a deal to take over the Silvertown Quays project, a 7 million square-foot (650,000 square-meter) development that will include offices, homes and stores, the people said, asking not to be identified because the talks are ongoing. The companies will take over the project from a consortium including Macquarie Group Ltd., Chelsfield Partners LLP and London-based developer First Base, which was selected as development partner by the Greater London Authority in 2012.
Executives for Starwood and LendLease, a spokesman for Chelsfield and spokeswomen for Macquarie and First Base all declined to comment.
Private-equity fund managers seeking outsize returns from real estate have increasingly turned to development in recent years as asset prices globally remain elevated. Starwood has raised $7.6 billion for one global fund, Private Equity Real Estate magazine reported earlier this month.
The Silvertown Quays project seeks to rejuvenate a former industrial area between Canary Wharf and London City Airport, large swathes of which have lain derelict for decades. The developers aim to attract creative and technology companies by refurbishing former warehouses once used for manufacturing.
Before it's here, it's on the Bloomberg Terminal.
LEARN MORE