markets
Och-Ziff to Shut European Hedge Fund as New CEO Shifts Focus
By and
Robert Shafir is emphasizing the firm's core offerings

Firm is said to weigh return of capital in other products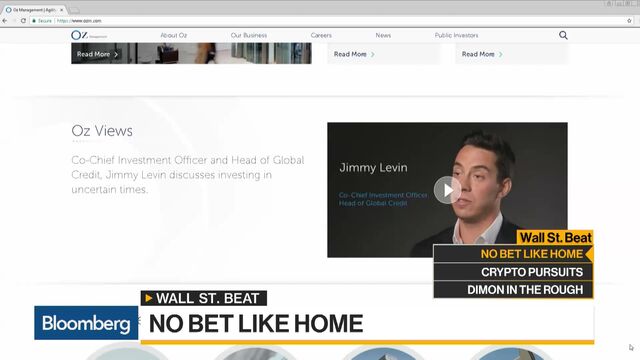 Och-Ziff Capital Management Group LLC is shutting its European hedge fund as the firm refocuses on its main products under the new leadership of Robert Shafir, according to people with knowledge of the matter.
The OZ Europe Master Fund, which has lagged the firm's other multi-strategy funds this year and last, saw assets decline to $230 million from about $900 million two years earlier, according to one of the people and company filings. Investors are expected to transfer their capital into the flagship OZ Master Fund, which will execute the European strategies as part of its global multi-strategy portfolio, said the person. Och-Ziff is also weighing returning capital to investors in other smaller funds.
The shift is part of Shafir's vision for the firm, which has struggled to overcome a corruption scandal that triggered a plunge in assets. Shafir, who succeeded founder Dan Och as chief executive officer in February, said on a conference call last month that he planned to focus the firm on its "core competencies" of multi-strategy, credit and real estate investing, and suggested he'd shrink some other businesses.
Read more about Shafir's appointment as CEO
"One of the things that I want to make sure of is that we're really emphasizing the core and frankly, in some ways, de-emphasizing things that are on the periphery," he said on the call. "Big picture, it is essentially embracing the strength of the firm and making sure those pieces work effectively together."
A spokesman for the firm, which had $33.3 billion under management on March 1, declined to comment.
The master fund gained 10.4 percent last year, and another 3.5 percent in the first two months of this year, filings show. Och-Ziff's Asia Master Fund surged 23.1 percent in 2017, and 2.1 percent this year through Feb. 28. The Europe Master Fund gained 4.8 percent last year, and 1.9 percent this year.
Shafir is moving quickly to make changes after his appointment was viewed by investors as part of a poorly executed succession plan. The firm's decision to choose Shafir, an outsider from the banking world, over co-Chief Investment Officer Jimmy Levin, caught many off guard.
A former CEO of the Americas for Credit Suisse Group AG, Shafir is seen as a steady hand to lead the firm, which has seen several departures of top executives while its share price dwindled to a near-record low.
Before it's here, it's on the Bloomberg Terminal.
LEARN MORE