politics
Greek Opposition Leader Promotes Corporate Tax Reduction
By
Greece needs debt relief but also to change its growth model

Greece's main opposition party leader speaks to Bloomberg TV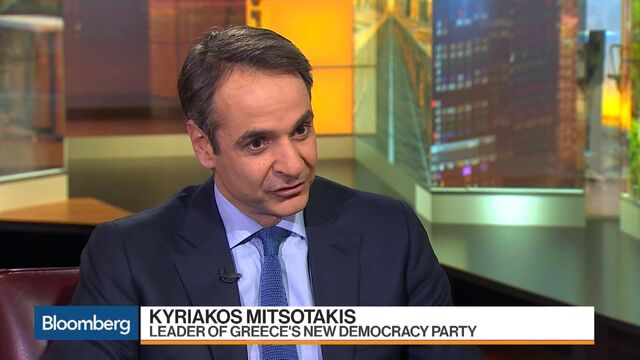 The reduction of corporate taxation from 29 percent to 20 percent in two years and the implementation of an aggressive reform agenda will be priorities for Kyriakos Mitsotakis, leader of Greece's main opposition party, if he comes into power.
There is a "distinct possibility" elections will take place in the second half of 2018, Mitsotakis said in an interview with Bloomberg TV and added that New Democracy will win. His party is leading in polls and his agenda includes a reduction in the first two years of corporate tax rates to boost investment and a 30 percent reduction in the property tax imposed during the crisis.
The country's economy has cratered with the output shrinking 26 percent since 2008. It expanded in 2017 but it needs investment to reduce an unemployment rate of around 21 percent and recover from the crisis.
Mitsotakis also said he is planning to re-negotiate with the country's creditors the fiscal path agreed on and foresees primary surpluses of 3.5 percent of gross domestic product for each year until 2022. This will come "only after we re-establish the credibility of the country" by first focusing on the implementation of an aggressive reform program, he said.
Greece's lenders are discussing measures that will be agreed for further debt relief. Mitsotakis said that the time has come for it but it's not just about debt relief.
"We are wrong to believe that Greece's problems are just related to the stock of debt," he said. "We need to completely transform the productive model of the economy and leverage the significant comparative advantages."
"I think if we do both Greece will be able to breath again and Greece could be the pleasant growth surprise of the Eurozone," he added.
Before it's here, it's on the Bloomberg Terminal.
LEARN MORE