politics
Mauritius Premier Slams President Over Her Refusal to Resign
By
Head of state may go to court over misconduct allegations

Deadlock could augur constitutional crisis for island nation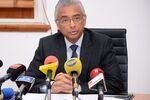 Mauritian Prime Minister Pravind Jugnauth accused the nation's president of backpedaling on a promise to resign amid allegations of misconduct, vowing to take unspecified actions.
The dispute between the two leaders has ratcheted up uncertainty on the Indian Ocean island, which been politically and economically stable since it gained independence from Britain in 1968. The World Bank ranks the country as the easiest place to do business in Africa.
President Ameenah Gurib-Fakim, the country's first female head of state, on Wednesday denied having any plans to resign and said she's prepared to go to court over allegations she spent money from a charity on a shopping trip. Her announcement came five days after Jugnauth said Gurib-Fakim told him during a meeting at State House she planned to step down.
"I am shocked -- shocked is not a strong enough word," Jugnauth told reporters Thursday in the capital, Port Louis, in a briefing broadcast by Radio Plus. "It's an attitude which is damaging to the office of the presidency. It's a behavior which does not honor our republic."
Gurib-Fakim said she "inadvertently" used a payment card issued to her by the Planet Earth Institute in 2016 that was identical to a bank card she already had. After informing the London-based charity she'd used their card for about $27,000 of "out-of-pocket expenses," she immediately reimbursed the institute in addition to other expenses incurred on a PEI trip.
Reputation Dented
Under Mauritius's constitution, the president can only be removed if it's proven before a special tribunal that they committed a serious act of misconduct, according to Arvin Halkhoree, a barrister at the Ebene-based Jurisconsult Chambers. The smooth running of the state also requires effective collaboration between the presidency and the government, he said by phone.
"The clash makes a big dent to the reputation of our country as a business friendly and well-managed economy," said Dan Maraye, a former governor of the Bank of Mauritius and now an independent political analyst. "Political uncertainty destroys economic development and stability. It brings the whole system to a crashing halt until the matter is cleared."
The matter will be discussed at a weekly cabinet meeting tomorrow, where the course of action will be determined, Jugnauth said.
(
Updates with comment by analyst in penultimate paragraph.
)
Before it's here, it's on the Bloomberg Terminal.
LEARN MORE