politics
Manafort Challenges Mueller's Indictment Power in Dismissal Bid
By and
Ex-Trump campaign chairman attacks Washington indictment

Virginia judge has said Manafort could spend life in prison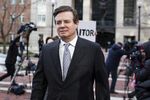 Paul Manafort leveled his harshest attack yet on the legitimacy of Special Counsel Robert Mueller in a new court filing, echoing the longtime complaints of his former boss, President Donald Trump.
Manafort's goal is to dismiss money-laundering and illegal-lobbying charges that could send him to prison for 20 years. But Trump's former campaign manager faces long odds in persuading a Washington judge to toss out a case based on the premise that Mueller exceeded his authority, lawyers said.
Manafort told a federal judge on Wednesday that Mueller overstepped a May 2017 order appointing him to investigate possible collusion between Russia and Trump's presidential campaign. Although Mueller can investigate matters arising from that work, he shouldn't have charged Manafort on Oct. 27 with financial crimes unrelated to Russia, according to the filing.
"That further power is not merely tantamount to a blank check," according to Manafort's lawyers. "It is a blank check the special counsel has cashed, repeatedly."
Peter Carr, a Mueller spokesman, declined to comment.
Echoes Trump
The arguments are similar to those by Trump, who seeks to discredit Mueller and has repeatedly called his investigation a "witch hunt." Trump told the New York Times in July that a line would be crossed if Mueller investigated his family's finances beyond any relationship with Russia. On Thursday, the newspaper reported that Mueller has subpoenaed the president's business, the Trump Organization, to turn over documents. While the full scope of the subpoena wasn't known, it was said to include some documents related to Russia.
Before Wednesday's filing, Manafort advanced similar arguments about Mueller's authority in a civil lawsuit. The new filing seeking dismissal of Manafort's indictment in Washington adds a new claim against Mueller -- that his prosecutors appeared before a grand jury without proper legal authority.
Former federal prosecutors not involved in the case said that Manafort arguments were imaginative but that winning dismissal was probably a longshot. To say Mueller overstepped is "a heavy lift for defense counsel," said Jeffrey Cramer, now a Chicago-based managing director for Berkeley Research Group. "We don't expect investigators to look away from crimes they uncover as they focus on the main thrust of their work."
Solomon Wisenberg, who served as Independent Counsel Kenneth Starr's deputy during the Clinton-era Whitewater probe, agreed.
"I wouldn't call it frivolous, but it's weak and it's ultimately going to fail," Wisenberg said.
'Whack-a-Mole'
Manafort, 68, a longtime political strategist for Republican politicians and foreign leaders, faces bank fraud and tax fraud charges in a separate case at the U.S. court in Alexandria, Virginia. He's pleaded not guilty to all charges.
With indictments in two federal courts, Manafort faces "a game of criminal procedure whack-a-mole against a special counsel whose massive resources he cannot possibly hope to match," his lawyers said in their Wednesday filings.
Manafort's lawyers argued that Mueller's appointment by deputy U.S. Attorney General Rod Rosenstein, empowering him to pursue any matters that arise directly from the investigation, was too broad. Rosenstein is overseeing the case because Attorney General Jeff Sessions recused himself. Each new investigative foray should require a new authorization, Manafort's lawyers argued.
In response to the civil lawsuit, Justice Department lawyers said Mueller's prosecutions are "entirely lawful." They cited Dec. 13 congressional testimony of Rosenstein, who said Mueller was "conducting himself consistently with our understanding" of the scope of his investigation.
Manafort and his former deputy, Rick Gates, were indicted in Washington on charges of conspiring to launder millions of dollars they made while working in Ukraine for Viktor Yanukovych, the pro-Russian former president and others and for failing to register as lobbyists in the U.S.
Gates Cooperating
Gates pleaded guilty to conspiracy and false statements charges, and he's cooperating with Mueller. Before his plea last month, prosecutors unsealed the Virginia tax- and bank-fraud case against Manafort. Prosecutors brought cases in separate courts because Manafort wouldn't consent to having the tax charges filed in Washington.
The Virginia judge has set a July 10 trial date. The Washington case is set for trial on Sept. 17. Judges in both cases have imposed $10 million bail terms on Manafort and ordered him largely confined to his home and subject to electronic monitoring.
"Motions to dismiss are difficult to win as the standard favors the prosecution," said Cramer, the former prosecutor. If convicted, he said, "Manafort is either looking at serious jail time or a presidential pardon."
If Manafort is pardoned, he could still face charges in New York state, Cramer said.
"Manafort is truly fighting for his life," Cramer said.
The cases are U.S. v. Manafort, 18-cr-83, U.S. District Court, Eastern District of Virginia (Alexandria), and U.S. v. Manafort, 17-cr-201, U.S. District Court, District of Columbia (Washington).
Before it's here, it's on the Bloomberg Terminal.
LEARN MORE