markets
Loan to Acquire Hong Kong's Most Expensive Office Tower Gets Costlier
By and
$2.1 billion loan pricing up 10bps after China Energy pulled

Pricing on mezzanine facility remains unchanged at 8 percent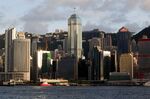 The lead buyer has walked and now lenders are toughening their terms in a deal to buy Hong Kong's most expensive office tower.
A senior bridge loan may see its yield rise as buyers and banks negotiate the HK$16.08 billion ($2.1 billion) package to finance the purchase of the building known as The Center from a company owned by billionaire Li Ka-Shing, according to people familiar with the matter. Last month, Bloomberg News reported that China Energy Reserve & Chemicals Group pulled out of the buyer group.
The latest negotiations on the interest margin of the HK$16.08 billion one-year senior bridge loan has been increased by 10 basis points to 140 basis points over Hibor from 130 basis points, translating to a new all-in of 190 basis points from 180 basis points, said the people, who asked not to be identified because the information hasn't been publicly disclosed.
China Energy emerged as a surprise leader of a buyer consortium in November that's seeking to buy CK Asset Holdings' office building for HK$40.2 billion, Bloomberg News reported last month, citing people familiar with the matter. That announcement had come even as China clamped down on overseas investments by its most prolific dealmakers, stoking optimism that demand from mainland buyers would continue to fuel Hong Kong's property market.
China Energy was to have taken a 55 percent stake in the purchaser, C.H.M.T. Peaceful Development Asia Property Ltd., which is a British Virgin Islands special purpose vehicle set up for the acquisition. Hui Wing Mau, chairman of developer Shimao Property Holdings Ltd., and Pollyanna Chu Yuet Wah, the billionaire co-founder of Kingston Financial Group Ltd., joined the consortium as new sponsors.
Shimao declined to comment on the chairman's personal investment, Investor Relations Senior Manager Eva Lau said. Kingston Financial could not immediately provide confirmation of details of the loan in response to telephone and email requests.
The senior facility will be borrowed via C.H.M.T. Peaceful Development with 52 tranches, said the people. The pricing of a HK$16.88 billion one-year mezzanine financing complementing the senior debt remains unchanged at 2 percent upfront fee, 2 percent cash interest and 4 percent payment-in-kind.
— With assistance by Frederik Balfour, and Emma Dong
(
Updates with background on buyer group in fifth paragraph.
)
Before it's here, it's on the Bloomberg Terminal.
LEARN MORE