markets
Lagarde Counters Trump, Calling Global Trade Wars 'Unwinnable'
By
Global trade war 'unwinnable,' she says, countering Trump

Warning comes as G-20 finance chiefs ready talks in Argentina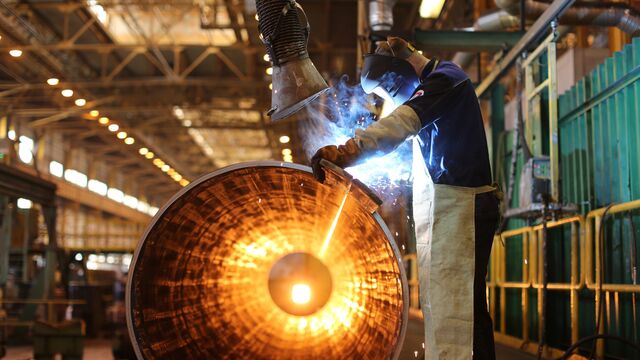 IMF Managing Director Christine Lagarde urged countries to avoid being sucked into a global trade war in the wake of U.S. tariffs on steel and aluminum, disagreeing with President Donald Trump's views that such conflicts are easy to win.
"Policy makers need to work constructively together to reduce trade barriers and resolve trade disagreements" without resorting to such tactics, Lagarde said in a blog post released Thursday. "They should ensure that the recently announced U.S. import tariffs do not lead to a wider escalation of protectionist measures. Economic history clearly shows that trade wars not only hurt global growth, but they are also unwinnable."
Lagarde issued the warning as finance ministers and central bank governors from the Group of 20 prepare to meet in Buenos Aires from March 19-20. Trump's decision to slap tariffs on steel and aluminum has provoked threats of retaliation from China to Europe, raising questions about the broader threat to the global recovery.
A full-blown trade war could shave $470 billion from global economic output, according to an analysis by Bloomberg Economics. That's under a scenario where the U.S. implements a 10 percent levy on imports and the rest of the world reacts.
Good Wars
Trump has welcomed the turmoil, declaring on Twitter that "trade wars are good, and easy to win." The U.S. is the International Monetary Fund's largest shareholder.
But the IMF is highlighting an increase in protectionism as one of the risks to a broad-based world recovery. Global growth continues to strengthen, driven by a firm rebound in investment and trade, the Washington-based fund said in a note for G-20 finance ministers that accompanied Lagarde's blog post.
Still, the fund is cautioning that global growth is set to slow as the economic cycle matures. The gradual tightening of monetary policy by central banks will push long-tern interest rates higher, while countries also withdraw the fiscal stimulus that has been supporting growth, the IMF said. The fund in January raised its forecasts for global growth to 3.9 percent this year and next, up 0.2 percentage point from its projection in October.
"Even though the sun still shines in the global economy, there are more clouds on the horizon," Lagarde said. "Think of the growing concerns over trade tensions, the recent spike in volatility in financial markets, and more uncertain geopolitics."
Protectionism is "pernicious, because it puts the biggest strain on the poorest consumers who buy relatively more low-priced imports," she said. Putting up new obstacles to trade isn't the right way to address global economic imbalances, said Lagarde, adding that using fiscal measures is "critical."
Many economists have questioned Trump's efforts to reduce the U.S. current-account deficit through tariffs and tougher trade deals, arguing the gap has more to do with macroeconomic conditions and fiscal policies that influence savings and investment.
Lagarde also urged G-20 finance chiefs to guard against financial risks, step up economic reforms, foster more inclusive growth and strengthen international cooperation.
Before it's here, it's on the Bloomberg Terminal.
LEARN MORE