markets
JPMorgan Moves Closer to Urging a Rotation Away From Equities
By
Bank sees 72% chance of recession over the next three years

Investors should monitor the 'twilight of the mid cycle'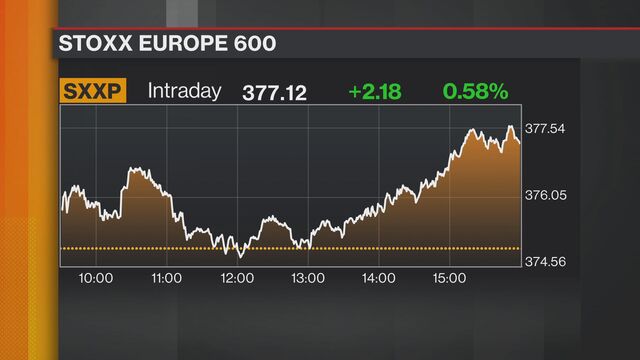 Markets are in the "twilight of the mid cycle" and investors should be prepared to act if the economy edges toward a recession, according to JPMorgan Chase & Co.
The firm still recommends a cyclical portfolio -- for example, overweight equities versus bonds and credit -- but it's urging clients to reconsider that distribution if the likelihood of a recession over the next 12 months rises to at least 30 percent, cross-asset strategist John Normand and senior U.S. economist Jesse Edgerton wrote in a report Thursday.
With near-term indicators relatively positive, the bank's model puts the odds of a recession in the next year at 18 percent, which is roughly in line with the possibility of it happening by random chance. But the likelihood grows to 52 percent over the next two years and 72 percent over the next three years.
"We could reduce these (cyclical) exposures progressively over the next year when one or several conditions have been met, like equities reaching our anticipated cyclical high of 3,000 on the S&P 500, or U.S. money markets pricing more of our base case of four hikes each in 2018 and 2019," they wrote.

That hasn't happened yet, as most markets have displayed mid-cycle characteristics, with equities outperforming and delivering above-average returns, commodity momentum not hyperbolic, emerging-market assets outperforming developed-market peers and energy, and base metals leading precious metals, JPMorgan wrote.
Late-cycle investing presents a difficult trade-off. Positioning too soon invites underperformance in the last year or two of an expansion. Positioning too late exposes the investor to higher volatility when the economy finally falls into recession.
"A more substantive shift to late-cycle investing in which we would underweight equities or credit versus bonds, EM versus DM assets, or cyclicals versus defensives within equities would require a view that the odds of recession over the next year are material, so probably at least 30 percent," the report said.

Assets most leveraged to the mid-cycle, according to JPMorgan:
Emerging-market equities (+6 percent average returns per quarter)
Technology stocks (+6 percent)
Small-cap stocks (+5 percent)
Financials (+4.7 percent)
Metals and mining stocks (+4 percent)
Base-metals futures (+3.6 percent)
Emerging-market sovereigns (+3.5 percent)
High-yield credit (+2.6 percent)
Highest late-cycle returns:
Utilities (+8.8 percent)
Energy futures (+7.7 percent)
Energy equities (+6.7 percent)
Precious metals (+4.9 percent)
TIPS (+3.2 percent)
USD cash (+2.4 percent)
There are some who may want to start reallocating their positions now, according to the report, particularly anyone with a long time horizon since the three-year chance of a recession is above 70 percent. But JPMorgan isn't in that camp yet, and neither are most investors and hedgers.
"A year or more of underperformance would not be credible with many even if eventually proven correct," Normand and Edgerton wrote. "From a systematic perspective we will await confirmation from the one-year signal before turning defensive on risk assets ahead of the first recession in a decade."
Before it's here, it's on the Bloomberg Terminal.
LEARN MORE