markets
Guggenheim's Minerd Expects More Than Three Fed Hikes in 2018
By
Rate increases may trigger U.S. recession within two years

CIO: Sell corporate debt, buy commodities, hold stocks for now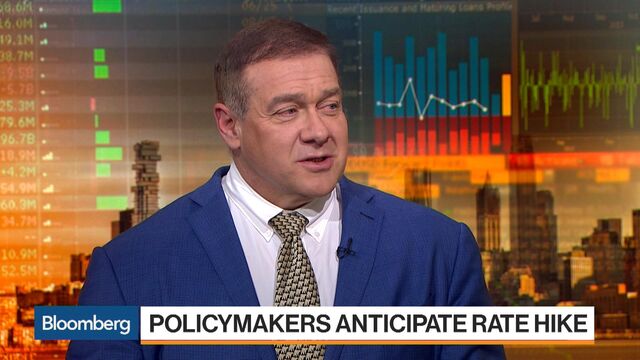 Scott Minerd, chief investment officer of Guggenheim Partners, said he expects more U.S. interest-rate increases this year than the three currently priced into the market as new Federal Reserve Chairman Jerome Powell seeks to contain inflation.
"I think Jay Powell's going to soften us up and let us get ready for the idea that maybe there's going to be more than three rate increases," Minerd, who manages about $250 billion, said during a Bloomberg Television interview Thursday.
The implied probability of a rate increase when the Fed meets on March 21, the first rate-setting meeting led by Powell, is 100 percent. The median projection calls for two further hikes by the end of this year, based on the bankers' so-called dot plot.
Pressure to raise rates faster is mounting as the economy faces overheating and inflation, fueled by tax cuts, higher federal deficits and wage pressure from low unemployment, Minerd said. Rate hikes also risk triggering a recession in 2019 or 2020 by putting the brakes on growth, he said.
For investors, Minerd said:
Stocks usually do well roughly two years before a recession, so it's a good time to hold equities.
Long-term rates are unlikely to move dramatically as the short end of the yield curve climbs, leading to a flat or inverted curve as soon as next year.
Sell high-yield and investment-grade corporate debt because today's low rates don't compensate for rising risks.
Use exchange-traded funds to buy exposure to commodities, which tend to perform well late in an economic cycle.
— With assistance by Julie Hyman, Scarlet Fu, and Joe Weisenthal
Before it's here, it's on the Bloomberg Terminal.
LEARN MORE