Frances McDormand's Diversity Dream for Hollywood Faces Hurdles
By and
Inclusion riders give A-list actors power to demand changes

Studios likely to seek watered-down terms to avoid disputes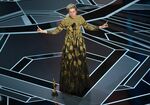 Every so often in Hollywood a bit player rises to sudden fame. And then, just as rapidly, disappears back into obscurity. Fans of Tinseltown's latest overnight sensation, the inclusion rider, hope it can buck the trend and take a starring role in film and TV for years to come.
In early March, after winning an Academy Award for best actress, Frances McDormand stepped onstage at the Dolby Theatre and gave an unexpected shout-out to the inclusion rider-- a relatively new contract clause whereby A-list actors can demand diversity benchmarks with the cast and crew. 
Stacy Smith, head of the Annenberg Inclusion Initiative at the University of Southern California, first came up with the idea in 2014, convinced that widespread adoption would dramatically increase the roles going to women, people of color, the disabled and LGBTQ people.
"If the three top agencies did this, Hollywood would literally be changed in a very short time," Smith said in an interview.
Following McDormand's name-check in front of 26.5 million TV viewers, inclusion riders have been gaining vocal support from the acting community. At the same time, those on the front line of Hollywood contract negotiations are questioning their viability. To date, the heads of the Hollywood studios have largely remained mum.
Actors Committed
None of which has dampened the growing enthusiasm of supporters.
On March 5, actress Brie Larson wrote on Twitter that she is "committed" to the inclusion rider and encouraged others to join her. Her projects include the lead role in "Captain Marvel," a big-budget, superhero blockbuster film coming from Walt Disney Co. The union representing about 160,000 film and television actors, journalists and radio personalities voiced support, too.
And Endeavor Content, which helps finance independent movies and television shows, said it's embracing inclusion riders and encouraging companies it works with to do so as well, according to Graham Taylor, co-president. His boss, Endeavor Chief Executive Officer Ari Emanuel, said in a memo this week that the company's talent agents must raise the option of adding the rider with their clients.
"Philosophically people are in favor of these," Taylor said. "This is the right thing to do."
In practice, though, inclusion riders may face business and legal hurdles. And they don't address pay inequality, such as the smaller salary Claire Foy earned in the Netflix series "The Crown," compared with co-star Matt Smith.
Avoiding Quotas
Anthony Oncidi, who heads the labor and employment law group in the Los Angeles office of Proskauer Rose LLP, says that while filmmakers should feel free to establish goals for diversifying their casts, adopting quotas could run afoul of laws that prohibit employment discrimination by private employers.
"Reps don't want to have to tell their talent that something they asked for has been rejected," said Ellie Altshuler, an entertainment lawyer at Nixon Peabody LLP, noting only "a small percentage of stars have that bargaining power. These are the people who can get a movie greenlit just by attaching their name to it, the Brad Pitts and Angelina Jolies of the world."
Smith's latest study, published in January, found women remain underrepresented in Hollywood from the executive suite down to the crew. Only 4 percent of directors were women on average over the past 11 years. Minority female directors are even rarer. Past studies have shown that for about a decade the share of female speaking characters in films has hovered at around 30 percent.
Recently, Smith has been calling on New York and California to link their film and TV subsidies to inclusion. In California -- which provides millions of dollars in tax credits to filmmakers annually -- a small sample of subsidized projects showed African Americans got just 4 percent of crew jobs, while Hispanics accounted for 11 percent and women 29 percent, according to the California Film Commission. The data are based on employees who chose to disclose their race or gender.
Illinois Numbers
Illinois, home to shows such as "Empire" and "Chicago Fire," says it's the only state that includes a diversity provision as part of its credit system. Before receiving subsidies, filmmakers must detail how they will employ a crew that is demographically representative of the state's population. 
Illinois has been criticized for not disclosing enough data, but results published for the past six years suggest the provision is having an impact. Last year set a record for diversity, with women and minorities making up 53 percent of crews, the state said in January. In 2012 they accounted for 40 percent.
To date, none of the six major Hollywood studios have backed or opposed using inclusion riders. Ivy Kagan Bierman, a partner at Loeb & Loeb LLP, said employers will be careful not to agree to riders that could lead to financial consequences for noncompliance.
And the terms, as envisioned by Smith and civil rights attorney Kalpana Kotagal, get into the nitty gritty of staffing. They include clear goals for the groups to be included, a process for auditioning and interviewing, even ways for Smith to track progress. They include financial consequences for studios that don't engage in "good faith."
"Companies might accept 'reasonable efforts'" to achieve diversity rather than agree to specific numbers or percentages, said Bierman.
But studios may have other incentives to change their ways. Recently, a number of movies with diverse casts and female protagonists, such as Warner Bros.' "Wonder Woman" and Walt Disney Co.'s "Black Panther" have put up huge box-office numbers. And while theater attendance has dropped, some minority groups in the U.S., such as African-Americans and Asian-Americans, are growing as a proportion of moviegoers.
Smith has already calculated what is at stake for the Hollywood community. According to her research, if leading actors had adopted inclusion riders en masse in 2013, the proportion of films with gender parity would have already jumped to 41 percent from 16 percent.
"I think we're at a point where we've been talking about this for 20, 40 years and we're really not making any change," said Stefanie Johnson, who studies leadership and diversity as an associate professor at the University of Colorado's Leeds School of Business. "Maybe it's the time to be more drastic or intentional about what we're saying we're doing."
Before it's here, it's on the Bloomberg Terminal.
LEARN MORE