markets
Classic 60/40 Mutual Funds See Revival After Correction Carnage
By
Hybrid allocation strategy up almost 3 percent in past month

Concern Fed would accelerate rate-hike timeline abates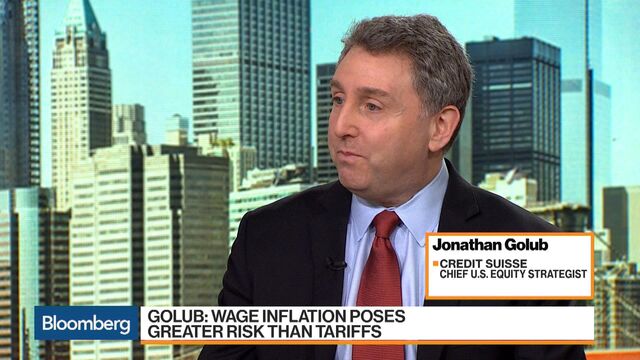 The concerted rise of stocks and bonds has breathed new life into one of the most popular allocation strategies.
All but left for dead during February's market rout, 60/40 stock-bond portfolios have rallied in the past month as 10-year Treasury yields have slumped and the S&P 500 Index has rebounded by more than 6 percent since entering a correction. In that span, the $4.1 billion DFA Global Allocation 60/40 Portfolio notched two of its three best weeks since early 2016.
It's an about-face for a fund that endured a rout last seen two years ago, the depth of which prompted investors to reconsider the strategy after a spike in rates sent stocks tumbling. Instead, its prospects seem much better after a strong jobs report with weak wage growth and data showing tepid inflation.

"The 'death of 60/40' and 'implosion of risk parity' were popular plot lines just a few weeks ago as U.S. and global interest rates surged higher," Bloomberg macro strategist Cameron Crise wrote Wednesday. "Fast forward to today and the story feels rather different as yields have stabilized and many stock indices have recovered more than half of their peak to trough losses."
Other funds that follow the strategy show a similar story. The BlackRock 60/40 Target Allocation Fund also had its two best weeks since 2016, and the Prudential 60/40 Allocation Fund tallied its two strongest weekly gains ever.
Going forward, rate hikes put in place by the Fed shouldn't derail the allocation strategy, according to Crise. Inflation, however, does pose a larger threat since the risk-adjusted returns of 60/40 strategies are negatively correlated with both consumer prices and inflation volatility -- meaning if prices rise or inflation jumps, 60/40 portfolios should decline.

"History doesn't really suggest that rate hikes are particularly dangerous for portfolios," he wrote. "Inflation is a much more pernicious threat."
Before it's here, it's on the Bloomberg Terminal.
LEARN MORE