China's Holdings of U.S. Treasuries Drop to Six-Month Low
By
Total foreign ownership falls for third month from record high

Net foreign buying of equities was biggest since 2007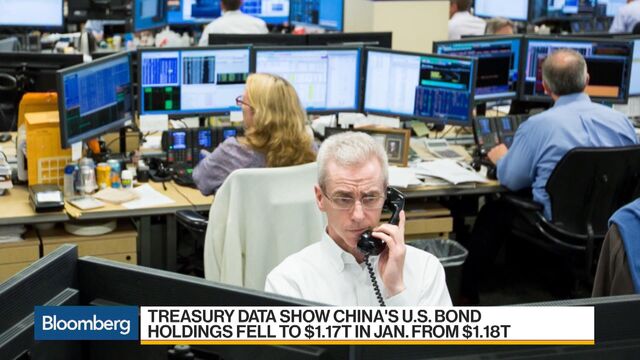 China's holdings of Treasuries fell to the lowest level since July as investors soured on U.S. fixed-income securities and the dollar at the start of the year.
China's portfolio of U.S. bonds, notes and bills sank to $1.17 trillion in January from $1.18 trillion a month earlier, according to Treasury Department data released Thursday. China remains the largest foreign creditor to the U.S., followed by Japan, whose holdings rose for the first month since July, to $1.07 trillion from $1.06 trillion.
Overall, foreign ownership of Treasuries receded in January for a third straight month, falling to $6.26 trillion, after reaching a record-high $6.32 trillion in October.
The U.S. bond market, the world's biggest, endured its worst January since 2009 amid investor fears that inflation could force the Federal Reserve to more aggressively hike rates. Recent reports on wages and consumer prices have lessened those concerns. The Bloomberg Dollar Spot Index dropped 3.4 percent in January.
Chinese investment in the U.S. has been getting more attention than usual since President Donald Trump took office and pressed ahead with his protectionist agenda. The president this month announced tariffs on steel and aluminum imports, a move intended to stop China from flooding the market at cut-rate prices. Trump has also threatened a host of trade penalties in response to China's alleged theft of intellectual property.
Debt Tool
Threats by Trump to crack down on trade with China have sparked concerns that the Asian nation could use American debt as a tool for retaliation. In January, Chinese officials said that as part of a foreign-exchange review, the government is considering slowing or halting purchases of U.S. Treasuries as they became less attractive relative to other assets.
Treasury Secretary Steven Mnuchin last month said he isn't concerned about foreign investment in new U.S. debt, which analysts expect will exceed $1 trillion this year.
Net foreign purchases of U.S. equities totaled $34.5 billion in January, the most in more than a decade and up from $31.8 billion a month earlier. The 2017 U.S. stock market rally extended into January. After an equities sell-off in February, the S&P 500 Index has recouped more than half its losses.
Among all foreign holders, total net sales of U.S. corporate bonds were $2.2 billion, compared with $1.3 billion in sales a month earlier, according to the Treasury data.
— With assistance by Katherine Greifeld, and Sarah Ponczek
Quotes from this Article
Before it's here, it's on the Bloomberg Terminal.
LEARN MORE