technology
Broadcom First-Quarter Sales, Forecast Get Lift From Brocade
By
Chipmaker will continue to consider smaller deals for growth

Second-quarter forecast indicates Apple order decline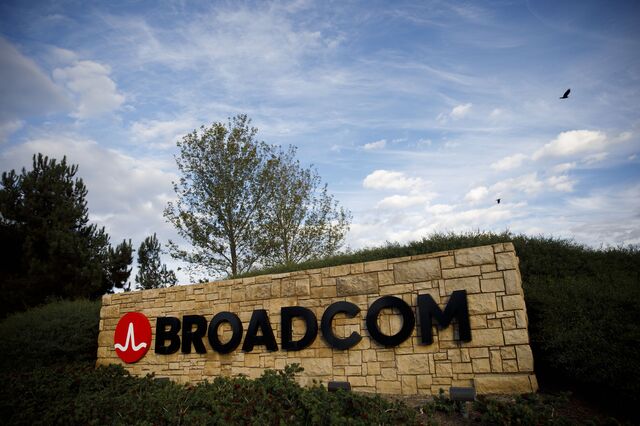 Broadcom Ltd. reported a 29 percent jump in first-quarter sales and forecast a revenue gain of almost 20 percent in the current period, underscoring its dependence on acquisitions to sustain growth and shield earnings from the volatility of chip orders from big customers.
Revenue in the quarter that ended in January climbed to $5.33 billion, and sales in the May period will be about $4.99 billion, the Singapore-based chipmaker said Thursday in a statement. The total in the recent quarter and the forecast, which were both in line with analysts' estimates, got a boost from the chipmaker's recent purchase of Brocade Communications Systems Corp.
Broadcom Chief Executive Officer Hock Tan, whose $117 billion bid for rival Qualcomm Inc. was blocked by the U.S. government earlier this week, is back to facing questions of how he might continue a strategy of building through acquisitions -- an approach that has more than doubled annual sales in the last two years. After a surge in the first quarter, demand for phone parts will be down sharply in the current period, Broadcom said, a signal that Apple Inc. orders are declining.
The company's revenue increase in the first quarter was partly fueled by its integration of Brocade and a flood of orders from a "large North American smartphone customer," related to a new product, Tan said on a conference call, using language he employs to refer to Apple without naming it. But those orders will fall off in the current period at a sharper rate than is typical from that customer, Tan said. Declines in that area will be partially offset by demand for chips used in data centers.
The company will still consider acquisitions as a means to fuel future growth, Chief Financial Officer Tom Krause said. For Broadcom, Qualcomm was a unique opportunity and future deals are more likely to be small enough to be funded by cash, not requiring a drastic increase in borrowing, he said. Broadcom's hostile bid got support from both its shareholders and those of Qualcomm. Krause said voting returns currently indicate that even now that they are unopposed, Qualcomm's board nominees are on course to get only 16 percent of the votes cast at its forthcoming shareholder meeting.
"Not necessarily something to celebrate down in San Diego," Krause said, referring to Qualcomm's home town. In terms of deals, "we're open to anything that's consistent with our business model."
Qualcomm declined to comment.
Broadcom's net income in the February period, which included the impact of discontinued operations and changes in the U.S. tax code, was $6.57 billion, or $14.62 a diluted share. Adjusted per-share profit was $5.12, compared with the average analyst estimate of $5.05.
Broadcom shares slipped 1.4 percent in extended trading after the quarterly results were released. They had earlier closed at $267.76, leaving them up 4 percent this year. That compares with a 13 percent gain by the Philadelphia Stock Exchange Semiconductor Index. The stock has outpaced the chip industry benchmark every year for the last five.
The company's wireless communications business, which supplies components such as Wi-Fi chips, had sales of $2.2 billion in the first quarter, a surge of 88 percent from a year earlier. Sales of wired infrastructure decreased 10 percent to $1.9 billion.
Mr. Tan Goes to Washington: The Undoing of a $117 Billion Deal
Qualcomm's board and management had opposed Broadcom's approach since it was first offered last November, characterizing it as an attempt to grab the company on the cheap and predicting the deal wouldn't pass regulatory scrutiny. While initial voting returns last week showed shareholders disagreed with them, Qualcomm proved correct about approval. On Monday U.S. President Donald Trump issued an executive order killing the deal on national security concerns.
That raises the question of whether Tan will be allowed to continue a string of acquisitions that have already reshaped the $400 billion semiconductor industry. Prior to the Qualcomm takeover attempt, Tan's management team had said they were turning their focus to lowering debt and returning cash to investors.
(
Updates with comments from executives on conference call.
)
Before it's here, it's on the Bloomberg Terminal.
LEARN MORE