politics
Zuma Exit Rejuvenates South Africa's Once-Cowed Parliament
By
Lawmakers grill cabinet minister over plunder of state funds

Parties cooperating to ensure accountability: ANC chief whip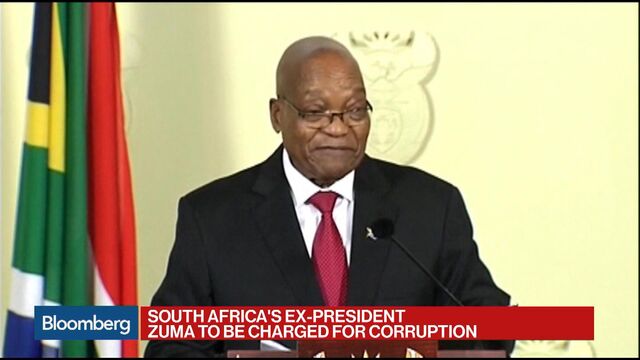 Jacob Zuma's exit as South Africa's president has given a new lease of life to the nation's previously submissive parliament.
While the African National Congress used its dominance of the legislature to shield Zuma and his appointees through repeated scandals, its lawmakers have found their voice since Cyril Ramaphosa replaced him as party leader in December and as president last month. Cabinet ministers and officials have been grilled over the misuse of state funds and for failing to do their jobs properly.
"Parliament is a different kettle of fish from the parliament we have had in the past three years," Jackson Mthembu, the ANC's chief whip, said in an interview in Cape Town. "We put our foot down because our people expect nothing less."
ANC lawmakers were reluctant to cross Zuma because he controlled the party's leadership structures that determined whether they retained their jobs.
No-Confidence Votes
Zuma, 75, survived several opposition no-confidence votes, despite the nation's top court ruling that he violated his oath of office for failing to repay taxpayer funds spent on his private home. He was also implicated by the nation's graft ombudsman in allowing his son's business partners to loot state funds and influence cabinet appointments -- a phenomenon known in South Africa as "state capture."
Ramaphosa won control of the ANC on an anti-graft ticket after fending off a challenge from Nkosazana Dlamini-Zuma, Zuma's ex-wife and preferred successor, and Zuma was forced to resign on Feb. 14. Ramaphosa, a 65-year-old lawyer who helped broker talks to end to white-minority rule and draft South Africa's first democratic constitution, is adamant that he and his government must be held to account and state capture must be stamped out.
"This is the year in which we will turn the tide of corruption in our public institutions," he said in his first state-of-the-nation address last month.
Corruption Probes
Over recent months, ANC lawmakers have worked alongside the opposition to convene probes into state capture and summoned cabinet ministers, Zuma's son, Duduzane, and several of his close allies to appear before them. They've also hauled officials from government departments, the state broadcaster and the national tax agency before them to explain a series of management failings.
Parliamentary sittings that previously degenerated into shouting matches and brawls between members of the radical Economic Freedom Fighters and the legislature's security officers, who were instructed to evict them when they tried to prevent Zuma from speaking, are now relatively mundane affairs.
On Wednesday, after the EFF complained that Ramaphosa hadn't answered one of their questions, the president got back up and said he would provide a response within a week. Malema then grabbed the microphone and said, "now that is being presidential."
"We have a new-found cooperation among parties," Mthembu said. The change in leadership has created an environment where "parliament can move ahead and be a tribune of intelligent debate," he said.
Business Optimism
The rejuvenated parliament has reinforced optimism among investors that there will be a sustained improvement in the management of Africa's most-industrialized economy under a new administration.
Business confidence climbed to the highest since the start of 2015 in the first quarter due to "the recent turn for the better in domestic politics," FirstRand Ltd.'s Rand Merchant Bank unit and the Stellenbosch, South Africa-based Bureau for Economic Research said on Wednesday.
The opposition isn't convinced the truce or the accountability honeymoon will last.
"The talk of a new dawn could easily be a public relations exercise where there won't be any substantive change,'' said Mabine Seabe, communications director for the Democratic Alliance, the biggest opposition party. "It's the same ANC but under new management. These are the same people that elevated and protected Zuma. I don't see how things will change now."
Richard Calland, a law professor at the University of Cape Town and an analyst at risk advisory company the Paternoster Group, said the ANC's 249 lawmakers are looking to safeguard their jobs after next year's elections, and are trying to demonstrate that they took a stand against state capture.
"They have to show they are on the right side of history," Calland said by phone from Cape Town. "The question now is will this last?"
(
Updates with Ramaphosa's background in second paragraph below No-Confidence Votes sub-headline.
)
Before it's here, it's on the Bloomberg Terminal.
LEARN MORE