Strike Continues in France's Mayotte Island Despite Accord
By
French government hopeful roadblocks will be dismantled

Locals angered by migrant arrivals from nearby Comoros Islands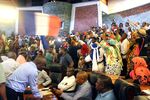 A general strike was continuing Wednesday in the French department of Mayotte, a day after a French minister reached an accord that was meant to bring an end to four weeks of protests in the Indian Ocean island.
"The roadblocks have not been lifted but we have good reason to believe the situation will improve," French government spokesman Benjamin Griveaux said Wednesday in Paris.
Annick Girardin, the minister for France's overseas possessions, Tuesday agreed on some measures to improve security in the island, and said she'd make further proposals within the month.
The general strike began Feb. 20, driven partly by anger directed at migrants from the nearby Comoros Islands, whom many in Mayotte believe come only to give birth on French soil, putting children on track to becoming French citizens.
The maternity ward of Mayotte's hospital is the largest in France, with 10,000 births a year, according to Agence France-Presse. Among the measures agreed on were cracking down on fraudulent residency permits and fake paternity claims.
AFP said Girardin also agreed to discuss an idea pushed by local leaders that the hospital be given extra-territorial status, depriving those born there to non-French parents of an automatic route to French citizenship.
The 260,000 inhabitants of Mayotte voted in a 2009 referendum to become France's 101st department, making it theoretically the equivalent of any region of mainland France. The average per capita income in Mayotte is almost 15 times that of the Comoros, but one-fourth that of mainland France, according to France's statistical Insee institute.
Before it's here, it's on the Bloomberg Terminal.
LEARN MORE